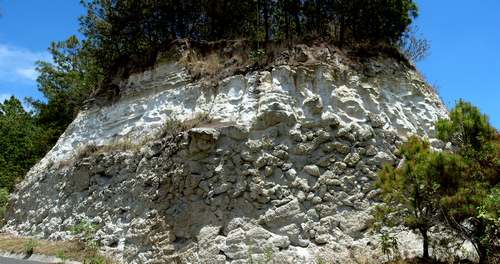 One of the attractions of the new geopark will be The Giant Pumice Horizon, easily viewed inside Jalisco's Primavera Forest. Within the Horizon you can see blocks of pumice up to eight meters in diameter.
By John Pint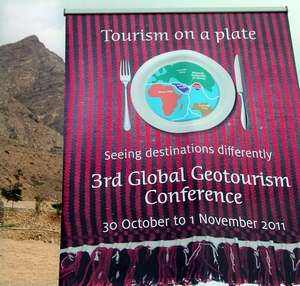 It all began in the Sultanate of Oman where—thanks to a strange concatenation of events—I found myself attending the Third Global Geotourism Conference in the fall of 2011. While preparing for this event, I discovered the existence of the Global Geoparks Network, UNESCO's organization of 90 geoparks in 27 countries of the world, where tourists can see and, better yet, understand the world's most outstanding geological phenomena.

I had planned to give a presentation at the conference on the extraordinary biodiversity and geodiversity all around the city of Guadalajara, an area I began calling "The Magic Circle" in 2010 after discovering that all five of Mexico's eco-systems converge in close proximity to this city, the second-biggest metropolis in the county.

Naturally, I asked myself whether any of the geological features near Guadalajara might qualify for inclusion in a UNESCO Geopark. I decided to pose the question to a friend and neighbor, Canadian geologist Chris Lloyd.

"Can you think of any place in western Mexico," I asked him, "that is geologically rare and at the same time suitable for demonstrating geological processes to the Man on the street?"

Chris looked at me and said, "John, you don't have to go anywhere to find a site like that. All you have to do is step out your door and walk down the hill."
Thus, did I discover that I live right on the edge of what geologists call The Comenditic Dome and Ash Flow Complex of Sierra La Primavera. "Geologists come here from all over the world to see the Primavera Caldera," said Lloyd, "but they usually study it from the western extension of Mariano Otero Street. Actually, the arroyo right here at the edge of Pinar de la Venta is much better for understanding the creation of the Giant Pumice Blocks, which, of course, only occur in a few places in the whole world."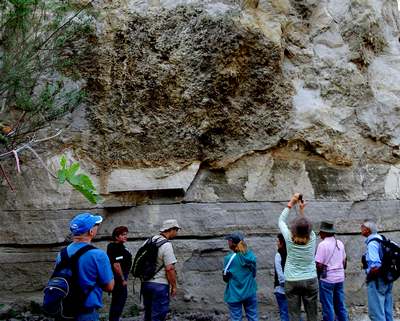 Giant Pumice Blocks? A potential geopark in my own backyard? "It could only happen in Mexico," I said to myself as I walked with Chris down to the Río Seco, a deep arroyo which separates my community from the Primavera Forest. Soon we stood at the base of a vertical canyon wall about 50 meters tall. "Welcome to the Primavera Caldera," intoned the geologist with a big smile.

Now a caldera is a most interesting phenomenon. It's a big hole which is left after a huge volcanic explosion. The whole process happens so suddenly that there is no time for a volcano to form. This particular explosion, I learned, took place 95,000 years ago and it was no small thing. Twenty-four cubic kilometers of rock and dust were thrown up into the air, putting the Primavera Caldera solidly on the list (although not at the top) of the World's Greatest Explosions. Eventually, the 11-kilometer-long crater filled with water and became a lake for at least 10,000 years. "See the horizontal lines on the canyon wall?" said Chris, "Each is a layer of sediment formed at the bottom of that lake."

Right on top of all those strata of sediment, I could see a thick band of something completely different: a layer composed of ash and enormous chunks of pumice typically from four to six meters in diameter. It seems some 25-30,000 years ago, there was a Mt-St-Helen's type eruption from a volcano at the southeast end of the lake, near the modern-day subdivision of Bugambilias. Giant blocks of pumice enclosed in a pyroclastic cloud were shot into the air and landed in the lake where they floated for a while until sinking to the bottom, forming a thick layer which geologists now call the Giant Pumice Horizon.

Hot River and Hissing Fumaroles

Apart from canyon walls that show us the history of the caldera, the present-day Primavera Forest has other outstanding geological features, such as Río Caliente, a hot river which starts out with temperatures as high as 70° C (158° F) but is quickly joined by numerous hot and cold springs, providing a delightful, hot, bubbly, "natural Jacuzzi" experience to countless thousands of bathers yearly. In addition to hot rivers, the Primavera Caldera also has dramatically hissing, sputtering fumaroles. Some of these have produced miniature forests of delicate, featherlike sulfur crystals, a veritable Little Yellowstone that few visitors to the Primavera have ever seen.

Fairy Footstools and Magic Rocks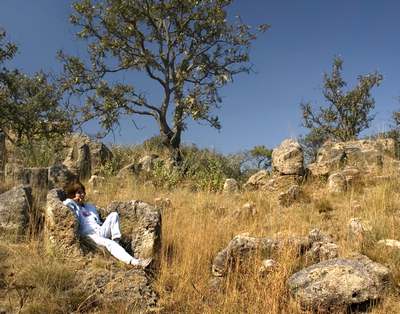 In the western half of the Primavera Forest lie hundreds of bizarrely shaped rocks. Some of them look like giant bathtubs, sofas and armchairs, others resemble long, smooth, curving fences or walls. Most curious of all are the "Fairy Footstools" which, from a distance, look just like tree stumps but are, in fact, made of rhyolite rock. Dig a hole next to what looks like a stump and you'll discover that they are just the tips of very long, smooth lithic cylinders. Geologists refer to them as "Fossil Fumaroles."
A very fine book on the geology of the Primavera Forest was published in March, 2013. "La Apasionante Geología del Area de Protección de Flora y Fauna La Primavera" by Barbara Dye has 72 full-color pages of photos, drawings and sketches and easy-to-follow descriptions of the exciting geology of this unusual caldera (Book Review).
Outside the confines of the proposed Geopark, lie a great many fascinating geosites many of which could become "partners" with the Park at some point. Below follows a list of some of these places.
El Diente Monoliths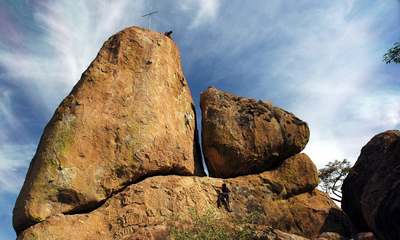 A ten-minute ride north of Guadalajara brings visitors into a forest of giant monoliths, popularly known as El Diente. These huge rocks are composed of a rather pure feldspar porphyry which formed deep under the earth perhaps up to 30 million years ago. That's how long it's taken the surrounding rock to erode away, leaving these extremely old monoliths standing tall. El Diente is a Protected Area and a favorite site for rock climbers as well as for families looking for a place to take a walk and have a picnic. For geologists, however, El Diente is a very special place indeed.

Giant Stone Balls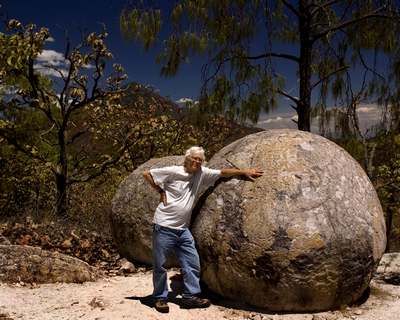 Within a short distance of the Primavera Forest-Caldera, lie several other extraordinary geological sites which could become partners with the new Geopark. Forty kilometers to the west there is a hilltop covered with almost perfectly round stone balls up to three meters in diameter. The Piedras Bola, as they are called, so intrigued geologists that National Geographic sent a team to Jalisco to unravel the mystery of these megaspherulites' origins and to publish the results (See their August, 1958 issue). More than 70 of these round rocks have been catalogued by a team from the University of Guadalajara (UDG) and it is thought that hundreds more lie beneath the surface

Obsidian Field and Workshops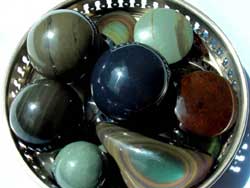 Jalisco has the third largest obsidian fields in the world. One of the most important of these is El Pedernal, which is found 25 kilometers west of the Primavera Forest, near Teuchitlán. Its obsidian is of a very high quality and comes in many other colors beside black.

What is thought to be the world's largest and oldest obsidian workshop, Itztlitlan, is today known as the former island of Las Cuevas, located 13 kilometers south of Magdalena. Archaeologists have proven that high quality obsidian was worked here continuously for 2000 years and tools from here made their way as far north as what is today the US state of Arizona.

The Three Major Types of Volcanoes
The Primavera is an outstanding example of a Caldera Volcano. Only 30 kilometers away, visitors can walk through the picturesque crater of Tequila Volcano, a stratovolcano featuring one of the world's best examples of an uplifted volcanic plug. A safe, yet exciting via ferrata can be constructed up to the very top. Good examples of the third type of volcanoes, scoria cones, are found just east of Guadalajara. This means that all three of the major types of volcanoes can easily be visited in one day.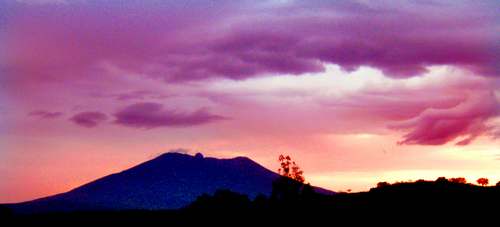 Tequila Volcano
The Opal Mines of Magdalena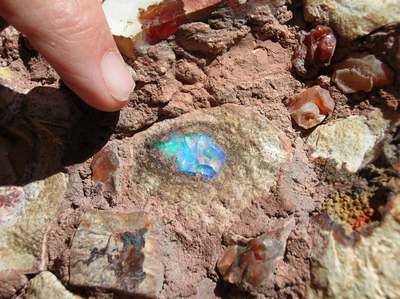 Hundreds of opal mines lie 50 kilometers northwest of the Primavera Caldera, near Magdalena. Wielding a miner's pick, visitors can find their own opals or purchase finely crafted opal jewelry in Magdalena.

Guadalajara, it seems, has an abundance of outstanding geological phenomena which fit the requirements for a UNESCO Geopark. Will it happen? An ad-hoc committee has been talking about just this subject for months, discussing the possibilities of creating a Geopark in Jalisco with the help of Geopark experts living as far away as Iran and China and with the local support of Bosque La Primavera. Here's hoping that Jalisco authorities will be just as enthusiastic!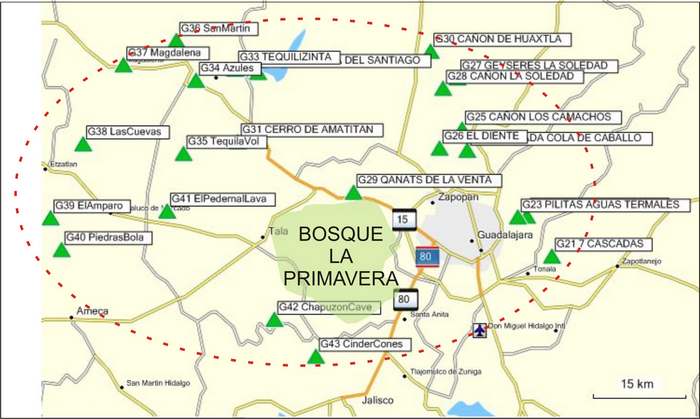 It is proposed that the Bosque La Primavera Protected Area be declared a Geopark. The red elipse encloses other remarkable geosites, indicated by green triangles, which could become "partners" with the new Geopark.