By John Pint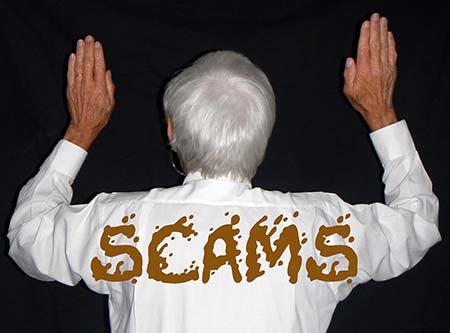 Many of these scams are regularly described in the pages of The Guadalajara Reporter. Although they are well known to readers of that newspaper, I discovered that none of my friends, relatives or acquaintences had ever heard of them. Unfortunately, one of those friends recently fell for the "old mustard-on-your-clothes scam" (first in the list below) inside a Guadalajara supermarket, convincing me that this list of short descriptions could do a lot of good. You'll find the Spanish translation of these right here.
THERE'S SOMETHING ON YOUR CLOTHES
You are walking around in the supermarket when a well-dressed stranger comes up to you and tells you there's some kind of liquid all over the back of your shirt and pants. It may be brown, looking like poop or red, looking like blood. In reality it is probably mustard or jam. The stranger offers to help you clean your clothes in the restroom, where a confederate is waiting. While helping you clean your clothes, they remove your money and credit cards from your wallet or purse.
WHAT DO YOU THINK ABOUT THIS MELON?
This is aimed at women who place their purse in a shopping cart as they push it around the supermarket. The questioner asking your opinion about a mango or melon is positioned in such a way that you have to look away from your shopping cart while you evaluate the fruit...and while your wallet is removed from your purse.

WOULD YOU LIKE SOME ORANGE JUICE?
This takes place on an intercity bus or an airport shuttle bus. You chat with someone who seems friendly and honest. You accept a drink or food from that person and wake up hours later minus your luggage and cash.

CAN I HELP YOU CHANGE YOUR TIRE?
You drive your car out of the supermarket parking lot, not knowing that the bad guys have damaged one of your tires...just enough so it will go flat after a few blocks. The criminals follow you and when the tire goes flat they appear and offer to help you change it. While you look at the tire with them, an accomplice jumps into your car and steals your valuables...and—if the key is in the ignition—your car as well.

SMELL THE PERFUME
You are wandering about a big department store, nowhere near the Cosmetics area. Nevertheless, you come upon a well-dressed woman with a tray of samples. She invites you to smell a new brand of perfume, which turns out to be chloroform. You fall unconscious and wake up without your money and credit cards.
A HELPING HAND AT THE ATM
You are waiting in line to use an ATM. Someone else in the line says something may be wrong with your card. You let the stranger look at it. When you arrive at the ATM, you discover the card you are now holding is a worthless fake.

DIRECTIONS, PLEASE
You are heading for your car in the supermarket parking lot. If you happen to have a purse or laptop hanging from a strap on your shoulder, you may be stopped by a person asking for directions to some well-known place in town. The idea is to distract you so a confederate on foot or on a motorcycle, can sneak up behind you and make off with your handbag or computer. You will probably not be thanked for giving good directions.