Text and Photos ©2014 by J. Pint
---

Check here for
the latest updates to Volume 2


---

DO YOU HAVE VOLUME 1 ?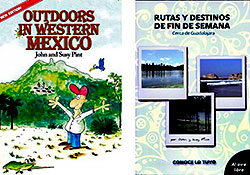 Volume 1 has 40 totally different sites. The English version is called
OUTDOORS IN WESTERN MEXICO
and the Spanish version is
RUTAS Y DESTINOS DE FIN DE SEMANA
.
A FEW OF THE SITES INCLUDED IN VOLUME TWO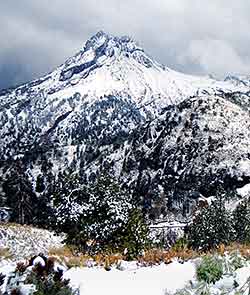 Chapter 21 tells you how to reach El Nevado de Colima, Jalisco's highest peak, and where to hike.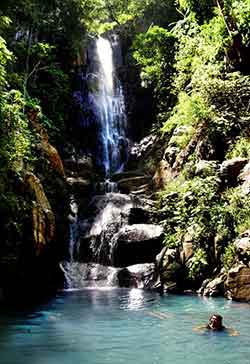 The three beautiful waterfalls of Los Azules are described in Chapter 11. Did you know they are only a 20-minute walk from the town of Tequila?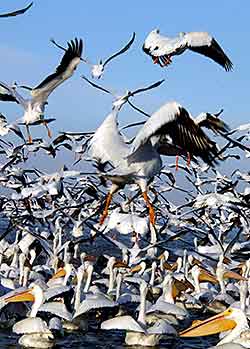 Around 10,000 pelicans gather daily to feed at Petatán at the west end of Lake Chapala. Read all about them in Chapter 17.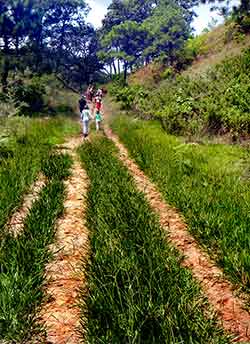 The Primavera Forest Interpretive Trail is two kilometers long and suitable for the whole family (Chapter 19).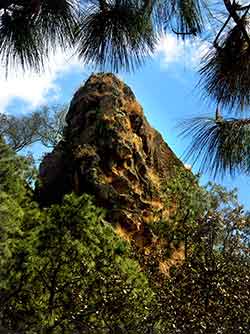 This spire is located at Villa Felicidad, just east of the town of Tala, where you will find all kinds of weirdly shaped rocks as well as the enchanting Río de las Ánimas, River of Ghosts.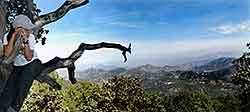 Panoramic vista from the top of Cerro El Col, near Santa Lucia, where you can appreciate a 360-degree view of the nearby countryside.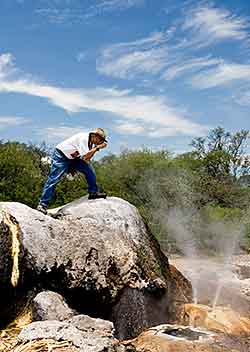 For an unusual experience, try camping next to the geysers of Los Hervores, located near Presa de la Vega and described in Chapter 13.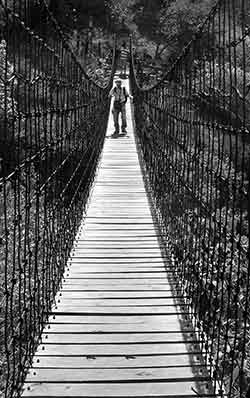 Chapter 24 presents UMA Agua Blanca, featuring bird watching, hiking, camping and a beautifully preserved circular pyramid (Guachimontón), two thousand years old.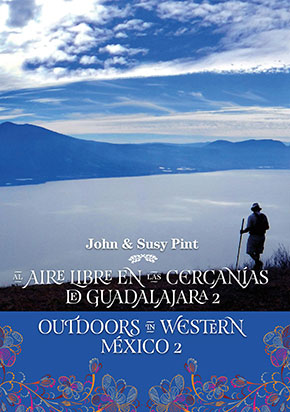 OUTDOORS IN WESTERN MEXICO VOLUME 2
AL AIRE LIBRE EN LAS CERCANÍAS DE GUADALAJARA VOLUMEN 2
by/por John and Susy Pint
Spanish and English in one volume
GPS coordinates and Wikiloc Routes for every location



Volume Two is available for purchase at the following locations. The cost is 200 Mexican pesos.
GUADALAJARA AREA:
Rancho Pint in Pinar de la Venta, Zapopan (TEL 31 51 16 12)
Casa Ibarra, José Manzano 859, entre Sebastián Allende y Aurelio González (cerca de Transito). TEL 38 24 56 09
Sandi Books, Av. Tepeyac #718, Guadalajara, Tel (33) 3121 0863.
Deportehábitat, Lerdo de Tejada 2593, Tel (33) 3615 8697

Oceanos Expediciones y Buceo · Plaza Exhimoda
Av. Vallarta 3233 Local 1F y 14F · Guadalajara, Jal, México
Tel. (33) 3915 . 8107

LAKE CHAPALA AREA:

Diane Pearl Colecciones, Morelos 1, Ajijic
Sol Mexicano Gallery, Colón 13 (across from Bancomer), Ajijic
(TEL contact: Margo McCutcheon, Ajijic, Tel 766-1298)

For more information, contact us at (33) 31 15 16 12 in Guadalajara; email: ranchopint@hotmail.com.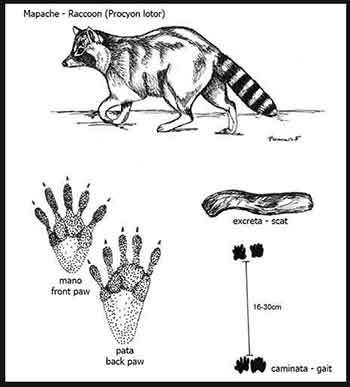 The new book includes Biologist Karina Aguilar's delightful drawings of wild animals you may spot in the woods, including sketches of their tracks, gait and scat.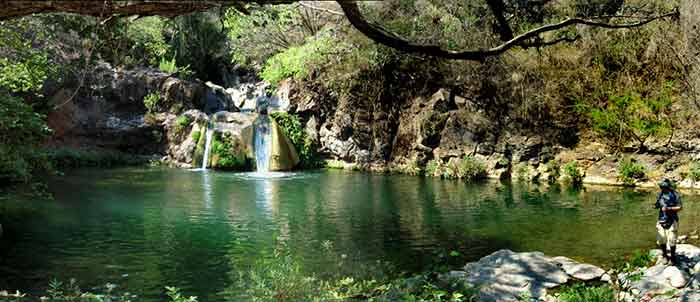 The Comala-Aquetzalli Falls are featured in Chapter two of Outdoors in Western Mexico 2. The first three falls are within a short walk from where you park your car and each cascade has a pool ideal for swimming. You'll reach them after driving only two hoursfrom Guadalajara, near the town of Chiquilistlán.