By John Pint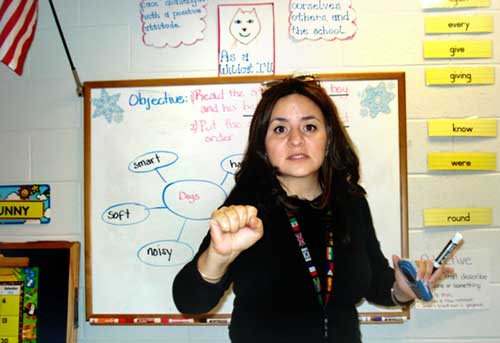 María Luisa Salazar of Guadalajara teaches ESOL (English to Speakers of Other Languages) at Buckland Mills Elementary School in Gainesville Virginia, as a participant in an exchange visitor program developed by VIF International Education, the largest organization of its kind recognized by the U.S. State Department.

"The school where I work has kids from China, Pakistan, India, Korea and all over Latin America," says Miss Salazar, "and my job is to help them strengthen their skills in English and succeed in the content areas."

One day, Salazar asked the fifth-graders what they knew about her native country, Mexico. "I was amazed at the response," she states. "I asked a lot of other kids at the school the same question and inevitably, the very first things that came to all of their minds were:
1. Sand
2. Heat
3. Cactus
4. Desert

I asked them what the people in Mexico are like and they had no idea. It made me think. I know the weather around Guadalajara is rather pleasant all year round and the city is surrounded by hills covered in pine trees. 'And what are we Mexicans like?' I asked myself. Well, I thought, in general we are pretty warm, we like to talk, we like to be close to people and when we greet them, we like that physical touch: we hug, we kiss. So I started to look for ways I could give these children a better idea about Mexico and Mexicans."

Salazar happened to have a copy of our book Outdoors in Western Mexico and sent me an email. "I really would like the kids, and the teachers too, to see that Mexico is not only about the bad news they hear on TV," she wrote. "I want them to experience a little bit of my beautiful hometown, and to see a little more about the rest of the country," and she asked me where she could get more information about "the real Mexico" to pass on to her kids. Among other things, I sent her a copy of my PowerPoint called "The Magic Circle" which depicts the extraordinary geo and biodiversity around Guadalajara, where all five of Mexico's ecosystems happen to converge.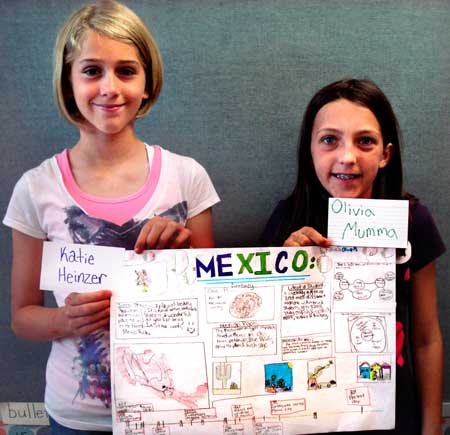 "I showed the slides to my kids and to all the other students in the school," says Salazar. "They were amazed. I showed them the Colima Fire Volcano with red-hot lava pouring down its sides at night, the gorgeous solitary beaches of Michoacán shimmering in the sun, the huge monoliths of El Diente, only ten minutes from the city. 'I know these places,' I said; 'I've been there.' And when they saw a slide of a little girl covered with mud (from the boiling mud pots of Los Negritos), they were, like: 'What's going on there?' And I said, 'Don't worry, that mud is healthy' and they said, 'Really?' And when they saw a big crocodile with its mouth wide open (at San Blas) their eyes popped. Finally, I showed them the map of Mexico where they could see that all five ecosystems come together around Guadalajara, and they said, 'No wonder!' The kids loved it and, by the way, so did the teachers."

Marilú Salazar's students then did their own research on Mexico and prepared a Poster Presentation for Buckland Mills School under the guidance of their hardworking normal teachers, Mrs. Maraska and Mrs. Stroud.

"Mexico is a place of beauty and interest," said fifth-graders Katie Heinzer and Olivia Mumma in their poster. "It's much, much more than just a dry foreign country. It's land with tropical rain forests, sandy beaches and thriving cities. It is full of culture, landmarks and activities. Mexico is a wonderful place to visit if you like being entertained. In other words, Mexico rocks."

The information they gathered, of course, is seen through the eyes of eleven-year-olds and might bring a smile to some of us long-time residents of Mexico. For example, one poster tells us "The most common animals in Mexico are jerboas, prairie dogs, manatees, tree frogs, lizards and lots of poisonous snakes."

Another fifth-grader's research led her to the conclusion that Mexicans are truly free people who can do whatever they set their minds to and praises "Freedom, Mexican style."

Marilú Salazar studied at the UDG and the Tec de Monterrey in Guadalajara. One day, at a convention of English teachers in Mexico, she walked up to a representative of VIF International Education who was sitting behind a table covered with brochures. She applied, and not long after that she was interviewed by telephone, the first step towards an overseas job which she has found deeply rewarding.

VIF International Education—whose name means Visiting International Faculty—was founded in the USA in 1987 by Dr. Fred Young, "a lifelong proponent of international cultural exchange" and his son Alan. VIF aims to help Americans gain global awareness and cultural understanding. It would like to put at least one international exchange teacher in every U.S. school to help develop "globally literate citizens" who are proficient in other languages. Over the years, VIF has sponsored 8,500 educators working in 1500 U.S. schools and they calculate they have impacted one million U.S. students. The success rate of these foreign teachers in U.S. schools is said to be 90 percent. Recently VIF has expanded world-wide and now has teacher-exchange programs in twenty countries, including Denmark, Jamaica, Spain and Mexico.

I was impressed to discover that this organization charges no fees and assists their teachers every step of the way, even to helping them get housing and a car. If you know a Mexican teacher who might like to have experiences like Marilú Salazar's, they should take a look at www.vifprogram.com .

My thanks for making this article possible to Janet Greer, principal, and Jorge Neves, vice-principal of Buckland Mills School, to Marilú Salazar and the other teachers there and most of all to the children, some of whom, I have discovered, are wise beyond their years…

"Before, I thought Mexico was all desert with cities here and there; afterwards, I learned that Mexico is a diverse country a lot like the U.S.—more so than either country realizes."
–Noah Wong