By John Pint

January 21, 2017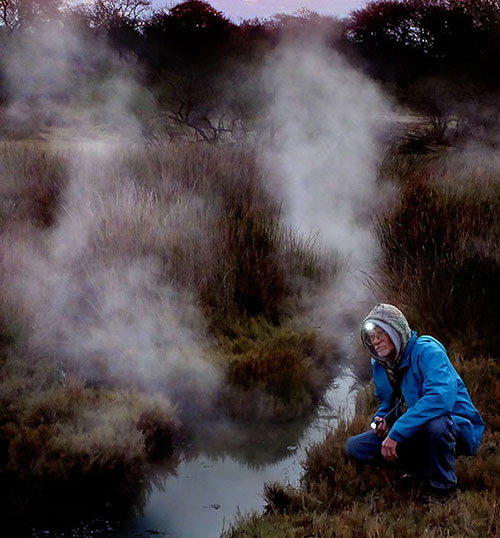 Nowadays every other renovated hacienda is advertised as a spa even though there may be no mineral-rich spring anywhere near it, and, of course, the rates for hotel-spas can be sky-high.

That makes Los Hervores a real bargain because, for only 15 pesos you can spend all day soaking in pools of deliciously hot water, that hardly anyone else knows about. The ambience may be rundown-rustic, but a spa it is, nonetheless.

Los Hervores, which could be translated as The Boiling Waters, once featured two tall, wispy, geysers, whose height kept dropping every time I visited the place, which, by the way, is located off highway 17, between Tala and Ameca, about 50 kilometers west of Guadalajara.
I decided to revisit The Boiling Waters to find out how those geysers were faring. A mere five-kilometer drive on a decent dirt road brought some friends and me to a rather dilapidated-looking structure housing four swimming pools, where I had proposed we take a dip. My companions' eyes bulged. "The water in those pools looks stagnant and dirty, John," every one of them grumbled. But I must give them credit for being willing to get out of the car and look a little closer.

First, we walked to a little stream which comes from Los Hervores and runs straight into the pools. Well, all admitted that the water was pleasantly hot and perfectly clean. "But those swimming pools are dirty, that's for sure," they persisted.

I figured the best strategy to coax my friends into the pools was to get them all hot and sweaty. So I didn't tell them it was possible to drive to the geysers (500 meters away) and off we went on foot, following the stream.

Even in the dry season, this little brook is truly picturesque and practically glowing, thanks to the bright green algae covering its bed. That color indicated the water temperature was around 50 degrees celsius (122 F), and the more we walked, the hotter it got, until finally we could hear an ominous sound, a simultaneous seething and rumbling coupled with the smell of sulfur, that somehow awakens an ancient dread of danger embedded in our genes. This hellish bruhaha came from a hole in a low wall, out of which water was ferociously bubbling. So, something is still boiling at Los Hervores, but, this day I discovered that its landmark geysers are no more.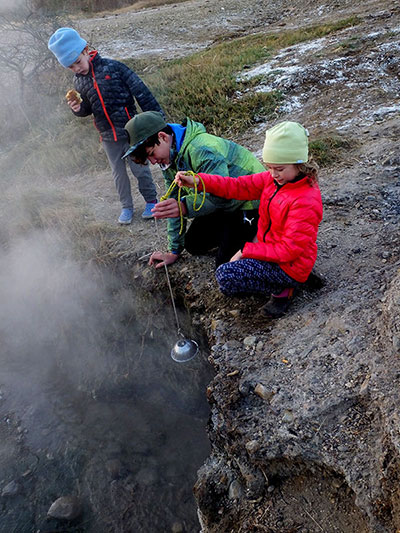 Also dried up were several pilitas or natural cauldrons, which had been filled, in the past, with rapidly boiling water in which people used to cook corn, and where I boiled my breakfast eggs while camping here many years ago.

Just a meter from the one and only spot where the water is still wildly bubbling forth, I placed two potatoes which, an hour later, provided us with a healthy and tasty snack...and, no, they did not smell or taste like sulfur!

After a hike back to the balneario in the hot January sun, it was easy to convince my friends to try out the now-deserted pools.

First, we discovered that the water was at just the right temperature: hot, but not too hot. Secondly, we quickly found out why the pools look "dirty." Every inch of the floor and walls is covered with algae, giving the pools a dark look, even though the water itself is transparent and perfectly clean.

Although we couldn't help joking about the crude architecture of the rustic buildings around us, we came to common agreement that Los Hervores is a rather unique spa and one of Jalisco's best-kept secrets. Go there any weekday and you'll have the whole place all to your self. And don't forget a few potatoes to boil in the waters of the ex-geyser!


CAMPING AT LOS HERVORES
Thermally heated tents, bizarre landscape, dazzling stars

By John Pint

January 28-29, 2017
I rounded up a dozen people willing to camp at this unusual site and off we went late on a Saturday afternoon. As on my previous visit, my companions gave me "murderous" looks upon our arrival at the seedy, run-down balneario: "This is the place? You've got to be kidding!" Once again, I was able to calm the waters by leading my friends to the area of thermal activity. Here they were fascinated by the noisily boiling source of the hot water and the bizarre patterns and colors of the algae in the little stream which runs from here to the swimming pools.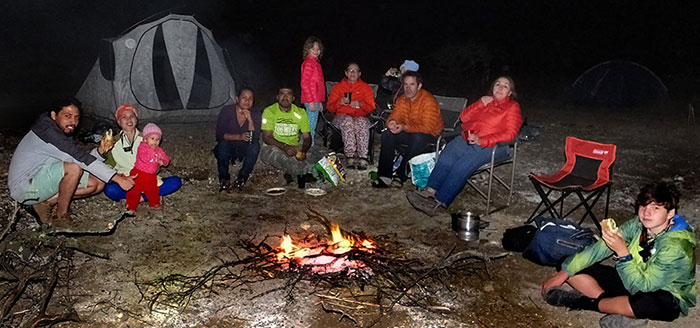 Campers relax around a bonfire at Los Hervores. Firewood is plentiful in the area.

Soon everyone was busy pitching a tent, with no more complaints. Once camp was set up, it was dark and we headed for the balneario to soak in the thermal waters. I'd hoped that by this time the pools would be empty, but one die-hard bather was still lingering there, enjoying music blasting from a nearby car with wide-open doors. Once he departed, we had the whole place to ourselves, with no lights to be seen anywhere, except for a few candles we placed around the pool. In the cold night air, the hot water felt marvelous, not to mention the great view we had of twinkling stars above us.


Afterwards, we sat around a roaring campfire eating dinner, including small potatoes which the kids cooked in the boiling stream. Then we all became stargazers. Astronomers take note, the campsite is in the middle of a wide, flat area offering a dazzling view of the sky from horizon to horizon, with no bright lights from nearby towns. What an experience!

Since we were still in the throes of the Jalisco "winter," I had brought along my thickest sleeping bag, but after a little while, I got back out of it because I was feeling uncomfortably warm. Then I put my hand underneath my sleeping pad and would have jumped if I hadn't been lying down. It was hot under there! Then I felt under the knapsack next to me and heat was accumulating there too. I had obviously pitched my tent on a hot spot, which at first seemed to me a great idea, but, over the course of the night, the temperature under my Therm-a-Rest reached about what you'd expect from a heating pad set on high. It was too much of a good thing.

So, crawling out of my tent at sunrise into the cold air of a winter's morning, something I might normally dread, turned out this time to be a real pleasure—definitely a unique experience for me!

Huge clouds of steam were rising all around us in the grey dawn, a bizarre landscape worthy of a Gothic novel. I suggest that future visitors take advantage of the first half hour of light to follow my "Spooky Loop Los Hervores" trail, which you can see on Wikiloc.com. It's only 1.1 kilometers long, but at dawn, the play of the sun's rays through the branches of the acacia trees, enveloped by the rising vapors, will leave you with an impression you won't forget.






Campers step outside their tent to explore the surreal Los Hervores landscape at sunrise.


Once again the kids in the group volunteered to cook eggs in the hot water. A metal steamer attached to a cord allowed them to get the eggs into the most ferociously boiling spot, where I'd suggest you leave them seven minutes to be perfectly soft-boiled or 12 for hard-boiled.

By 10:00 we had packed up and were ready to leave, just as the first domingueros were arriving at the balneario.

A local ranchero told us that the geysers had probably disappeared due to the drilling of a water well nearby. "Y no sirvió (it was all for naught)," he told us, "because the corn we irrigated with that geyser water didn't even grow as tall as one of these niños."

The well has been sealed up and, together with the local people, I hope that Jalisco's only geysers will someday be back. But even if they don't, Los Hervores is still a unique and fun place to camp.

How to get there


Take highway 15 (Nogales and Tepic) 25 kilometers from the Periférico to highway 70, heading southwest towards Ameca. After 17 kilometers, you'll pass the Tala sugar refinery. Keep going straight another 15 km where you'll hopefully see a sign saying La Vega. Turn right here (N20 34.448 W103 51.411) and go through the town of La Vega and straight on until you come to the cemetery (panteón), 1.3 km north of the highway. Turn left, pass over a cattle crossing and drive 2.6 km NW, following rustic, beat-up signs to the final turn. Here, at N20 35.846 W103 52.919, where a sign is really needed, there is none, but you'll see "Los Hervores" as graffiti on an electric power pole. Turn right here onto a dirt road heading north. After only 831 m, you'll reach Los Hervores Balneario. You'll find the source of the hot water 500 meters to the west, at N20 36.257 W103 53.137. Driving time from Guadalajara: about one hour. For the route, see Wikiloc.com under GuadHikes - Los Hervores Geysers.