By John Pint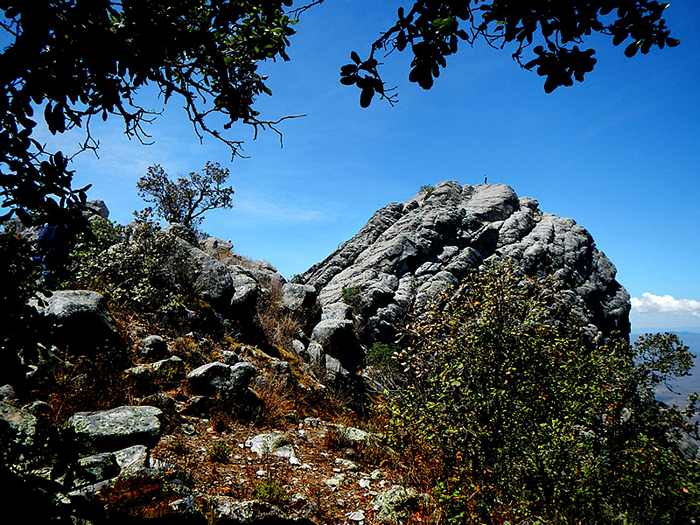 This little-known mountain top is a gorgeous spire of rock 2664 meters high, located southwest of Ameca, Jalisco in an area known as La Sierra Verde. Unless you own your own helicopter, you'll be needing a really tough four-wheel-drive vehicle for this trip, but at the end of two hours of wild bouncing, you get a reward that makes it not only worthwhile, but worth coming back for another look.

We set out at 7:00 AM with me shoehorned into the back seat of my neighbor Miguel's little Jeep. Things then proceeded in typical Mexican style…

We drove to a remote spot west of Ameca to meet up with Miguel's friends, who didn't appear. Back we went to Ameca only to discover we had been waiting at the wrong spot. The amigos were now 'way ahead of us, "but don't worry," said a friend of Miguel's, "just take the

brecha

heading south from El Realito and you'll catch up with them."

Now I see a certain hesitant look in Miguel's eyes, which tells me he doesn't really know the route we are going to take.

"Any turns we need to know about?"

"No, no, just go

siempre derecho

, and don't worry,

no hay pierde

(you can't get lost)."

Every time I hear "no hay pierde," I know there's bound to be trouble, and sure enough, we found plenty of forks in the road. Fortunately, my friend Rodrigo has sharp eyes. At the first fork, he shouted, "Bear left, Miguel, I can see their tire tracks."

This was repeated numerous times and all I can say is we were lucky Miguel's friends happened to be the only ones driving around the Sierra Verde that morning.

At last we found them, eight guys enjoying a desayuno of sandwiches and refrescos in an oak grove whose leaves were just barely sprouting.

"Join us for breakfast!" they all said.

Soon our caravan was on its way, climbing in altitude until pine trees appeared. A sign told us we were now entering the Ejido of San Nicolás and from that point on the vegetation got so lush (at the height of the dry season!) that I could only conclude we had entered a cloud forest, as we saw no signs of rivers thereabouts.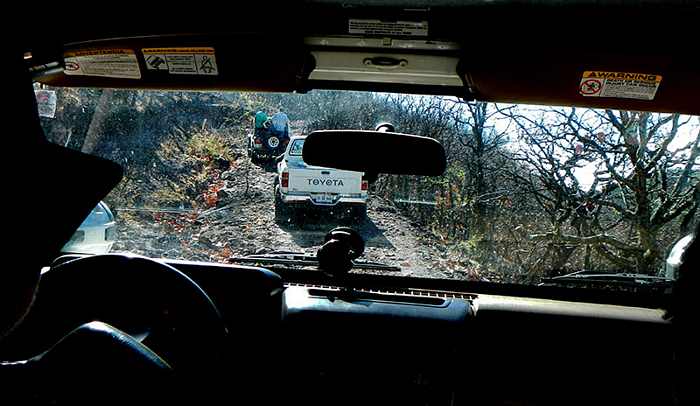 Suddenly the caravan came to a halt. The lead vehicle couldn't get up a steep, rocky stretch of the road and kept sliding back down.

"Too many big rocks," said our compañeros. "Let's dig them out."

"Well, I've done a lot of four-wheeling and never did I think of bringing along heavy wrecking bars—but these guys did, and a major road-improvement operation ensued then and there.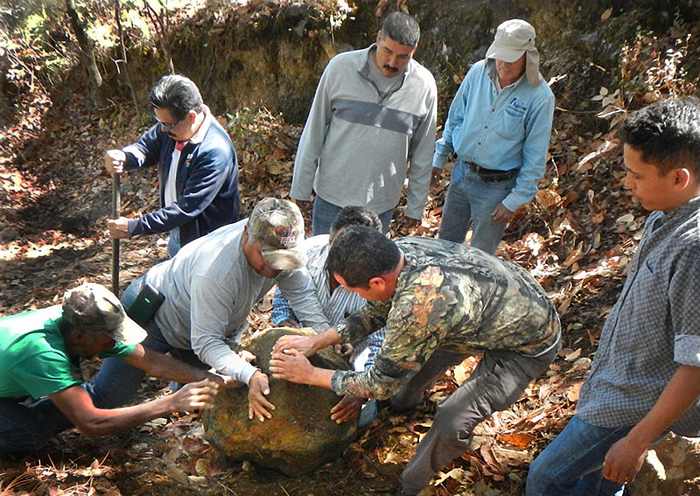 After a 12-kilometer drive from the highway, we came to the parking spot. There wasn't much of a trail after that, but you don't really need one: just keep going up, a walking distance of 1.2 kilometers with a 250-meter change of altitude and grasshoppers jumping everywhere.

Suddenly there it was, a great mass of volcanic rock rising above us with a stupendous view in every direction. Scrambling to the top of it offered no challenges to a good climber, but one of the men had brought along a rope to belay us no-alpinistas.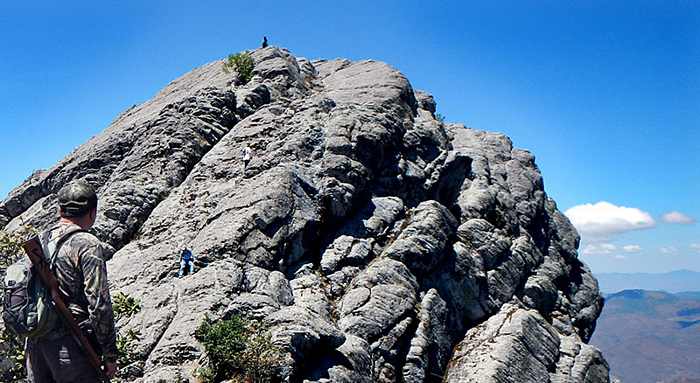 The view from the very top—2664 meters according to my GPS—was truly sublime. To our surprise, the very highest spot was literally crawling with life: thousands of ladybugs and stink bugs of a sort called

jumiles

, considered a culinary treat in Taxco. What all these bugs were eating on this rocky point I couldn't figure out.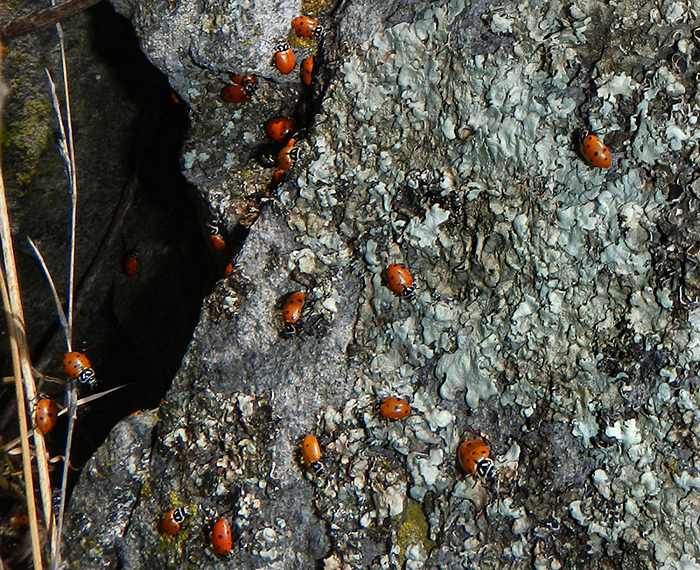 This peak is 100 meters higher than famed Huehuentón, located in Quila Park, 23 kilometers from this spot, and it's far more beautiful.




We topped off our day with a delicious carne asada and tasty gray tortillas made by one of Miguel's friends from home-grown

maíz negro.

..plus cold beer, of course.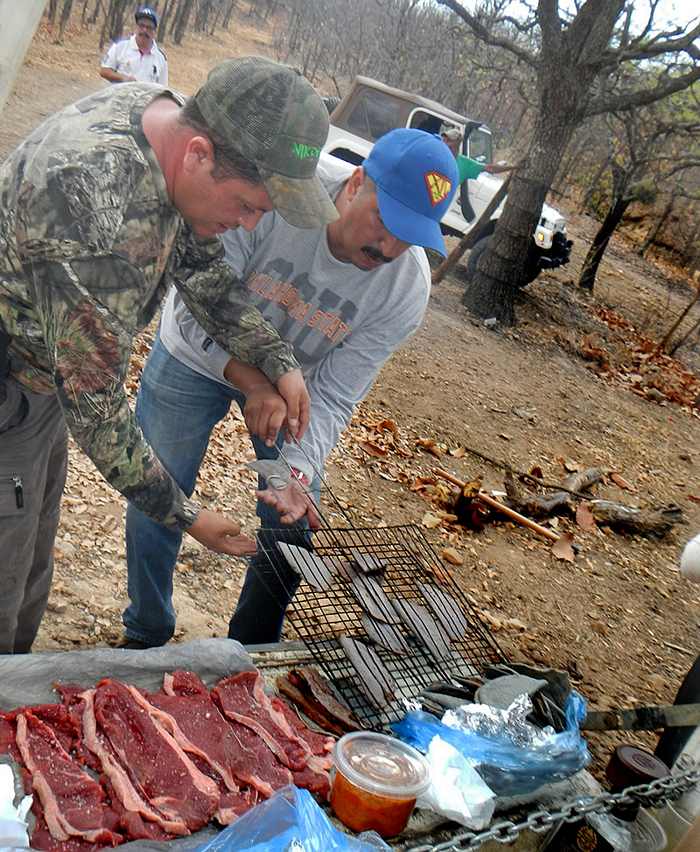 Since there is no cell-phone coverage in this area, better do this trip in more than one vehicle—and don't forget your wrecking bar!

How to get there
Ask Google Maps to take you to El Realito, Jalisco, a 16 km drive west of Ameca along the highway to Mascota. The no-hay-pierde dirt road starts at N20.53732 W104.17694, but you might first take a peak at one of the old Realito mines at N20.53503 W104.17383, a 215-meter walk from the highway. There's a deep pit inside...don't fall in! Now follow the track "Realito to La Tetilla" shown on Wikiloc.com. The peak is at N20.45203 W104.17712. Driving time from Guadalajara or Chapala is about four hours plus a hike of about 90 minutes.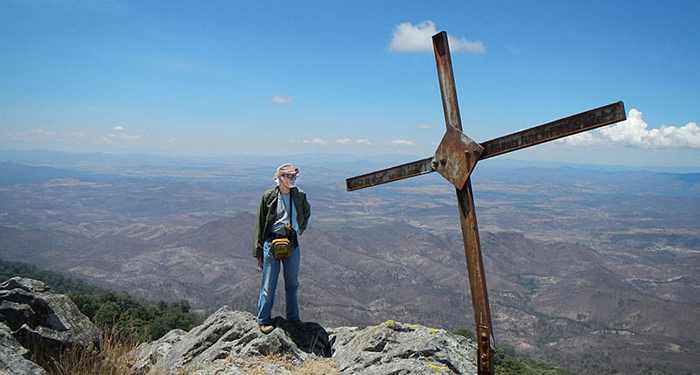 John Pint on top of La Tetilla de Ameca, altitude 2664 meters above sea level.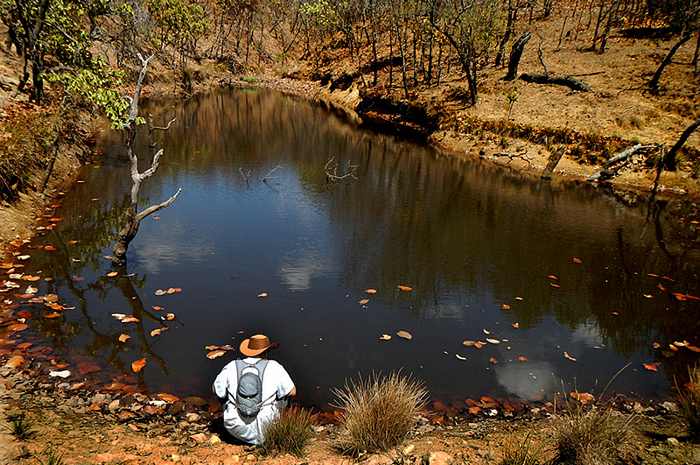 After the hike, Rodrigo Orozco of Guadalajara contemplates the beauty of a peaceful mountain lagoon.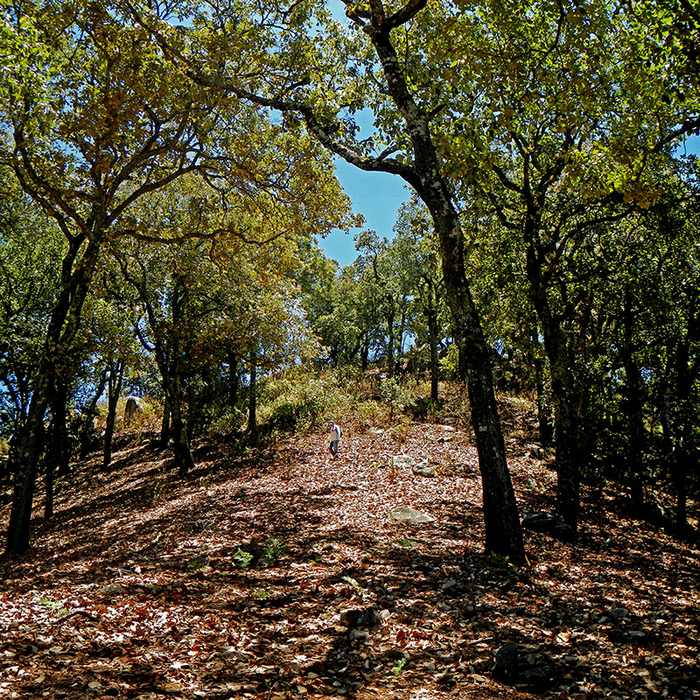 Hiking from the parking spot to La Tetilla, through the beautiful high forest.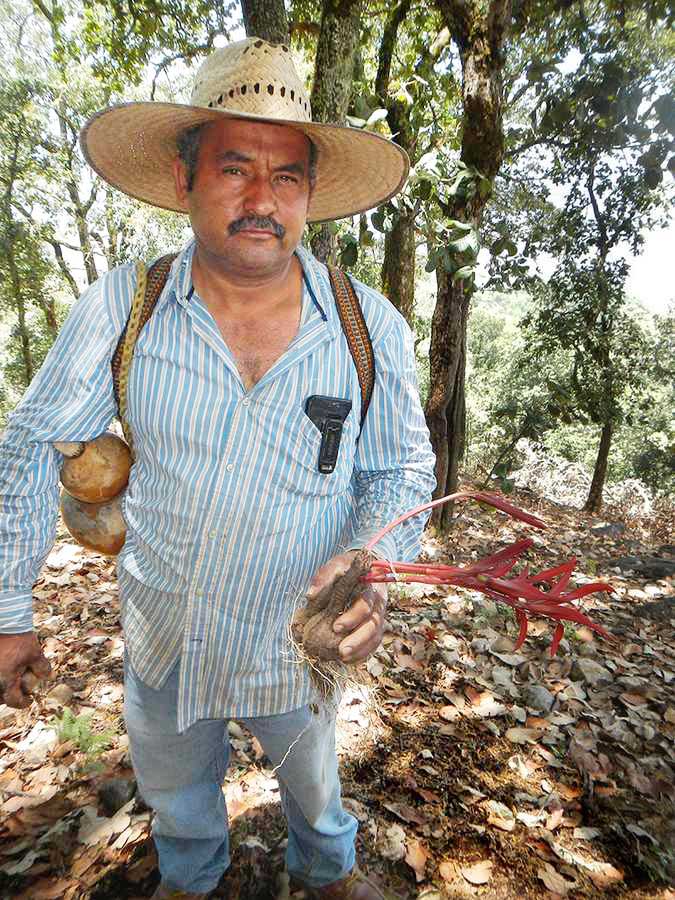 José Adán Curiel of Ameca brings home a medicinal Tempranilla plant from the mountain top. He carries his drinking water in a

bule

(gourd) plugged with a corncob.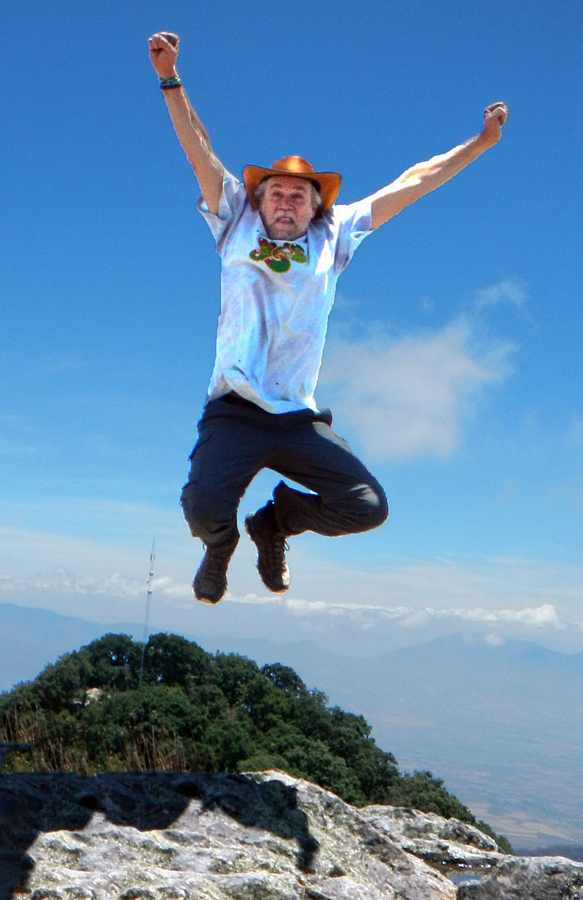 Rodrigo Orozco jumps for joy on top of La Tetilla de Ameca

Text and Photos © 2018 by John & Susy Pint
HOME