Just Another Desert Adventure
Sand Flying, Car Swerving and Gas Peddle to the Floor
By Steve Bowen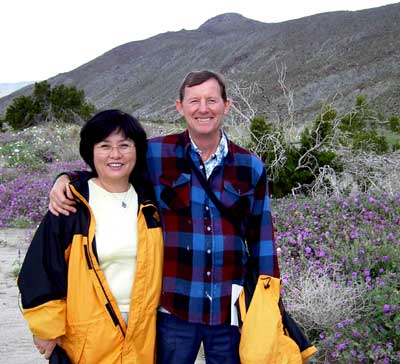 Yesterday my wife Chong Suk and I went to the desert to appraise some remote land for the Park Service. I knew it would be 4-wheel drive so I got prepared for any emergency including getting stuck. I figured it would take two hours to get there from my home in San Diego (Little did I know). The road started out easy and I had high hopes of an easy trip.

We were soon in a different mind set as we crawled over boulders at 1-2 miles per hour. How far is this land?—it was far. I thought if it doesn't get worse, we will be OK.

Elephants From Nowhere
| | |
| --- | --- |
| ...All of a sudden, we found ourselves surrounded by elephants. This was quite a surprise, but on closer inspection we found that the elephants were made out of metal, placed out there in the middle of the desert by some artist. Who it was, we don't know, because there was no plaque or anything. There is no road to them and they can only be reached on foot. The elephants are full size and quite out of place, but well done…something new out in the desert. I give credit to the artist, whoever he is. They should be called the elephants from nowhere.... | |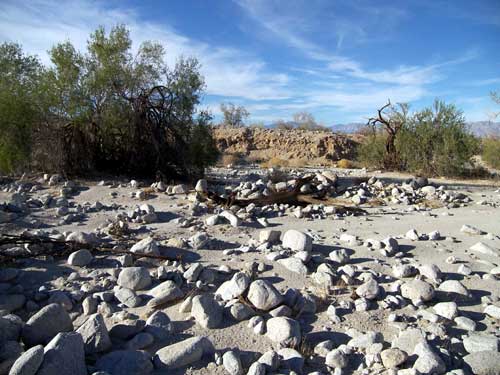 Back to our search for the property in the middle of nowhere. Chong Suk is looking at my lap top with topo program and GPS attached and saying we are going in the right direction. I was told there was no way to get to the property. So I only wanted to get as close as possible. Well, another road took off from this rocky road and with Chong Suk's enthusiasm and single call to duty to continue, we ventured onward. The road dropped into a large desert wash, the car tilted, Chong Suk hung on for life and looked scared but I was committed at this point since it was too steep to back up. Doing these trips solo adds a lot of fear to tough spots like this. A back up team would be nice.

| | |
| --- | --- |
| It was a beautiful desert wash with large trees and sandy bottom cut into this dry ocotillo and cholla flat-land area. The wash came out of a large desert mountain range and appears to be a death trap when it rains. We had clear hot skies. We continued down the wash looking for the needle in the proverbial desert hay stack... | |
| | |
| --- | --- |
| ...The road got softer and sand got deeper and deeper. We were moving forward and the 4 runner got slower even with more gas. At this point I told Chong Suk that I am going to run for it as I could see a rocky area at the end of the curve, a quarter mile away. | |
Running for it

Stopping was not an option since I would surely get stuck. The car was swerving even with me trying to maintain a straight line. Any turn would get us stuck. We finally made it to the rocks just before it dropped off into impassable. Chong Suk looked at the computer and announced, "This is it! We are right on the property." I was sweating and mostly thinking of how we are going to get out of here. I could get stuck just trying to turn around.

This was a pretty spot, very remote and I took my scenic pictures for the report. It would be a great place to camp and then explore the canyon up the wash that goes into the mountain range. This desert wash was huge.


"This is it!" announced Chong Suk.

We turned around and I told Chong Suk to hold on as I was going to make a run for it. Gas Peddle to the floor, sand flying, car almost out of control, swerving from side to side, progress slowing as I think we are going to get stuck for sure. Just as all hope had faded and I could see myself digging for hours to get out of there, the car hit a solid something that gave me the needed momentum to get to the steep hill out of the wash. As adrenaline was pumping, almost tipping over to get up that hill seemed like nothing. I was glad to be on rocks again. The things I do for work!!