By John Pint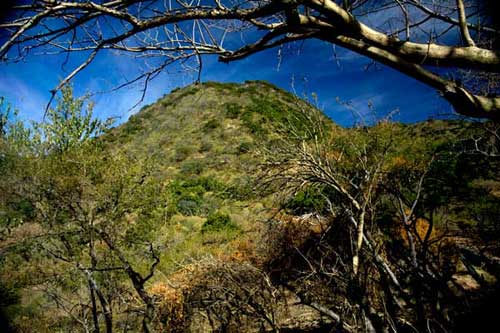 In 1992, archaeologist Phil Weigand published sketches of several circular pyramids and a ball court he had found in the hills above Santa Rosalía, eight kilometers north of Etzatlán. Ever since I came across his drawings, I had wanted to visit these ruins in the company of an archaeologist who might explain what I was seeing. Weigand said that these ancient monuments are "in excellent condition" but also mentioned that the climb up the hill is very steep and you'd better bring along "water, food and a telephone in case of emergency."

On top of all that, I learned from the President of Etzatlán that one of the deepest shaft tombs ever known had been found in these very same hills. This tomb, known as El Frijolar, measures 16 meters deep and has three large interconnected chambers at the bottom of the narrow shaft, which is 1.5-meters in diameter. These burial chambers have been reproduced in fascinating detail at the Museo Oxiacar inside the Casa de Cultura in Etzatlán. The shaft tomb was dug by the same mysterious people of "The Teuchitlán Tradition" who—starting as far back as 2300 years ago—built their trademark circular pyramids all over what is now called western Mexico.

While planning my visit to Santa Rosalía, I managed to find not just one but three archaeologists willing to participate in an excursion to these ruins which Weigand had found atop El Peñol, a high hill located just three kilometers north of Santa Rosalía.

I had waited for the rainy season to calm down somewhat and finally decided to tackle El Peñol on September 16, Mexican Independence Day. A dozen of us would-be adventurers met early one morning outside town under an ominous sky filled with big, black clouds.

Sad to say, even though it was a national holiday, Murphy's Law was still operating: just when we were ready to drive off, rain started to fall from the sky in buckets. We were strongly tempted to call the whole thing off, but archaeologists Rodrigo and Cyntia Esparza had arranged for a corn-on-the-cob and fried-fish picnic after the hike, a treat we couldn't afford to pass up just because Tlaloc was in a bad mood.

The head of tourism in Etzatlán had arranged a guide to meet us in the plaza of Santa Rosalía, but hadn't mentioned the guide's name. No problem, I thought, because I had expected to find the plaza empty with only the guide waiting for us.

False assumption! As it was Independence Day, "downtown" Santa Rosalía was jammed with people watching a parade which had just begun. The first "float" coming down the street was a pickup truck bearing Señorita Santa Rosalía on its hood with her Ladies in Waiting on the roof. Next came a brand-new, shiny red tractor pulling a nicely decorated flat trailer carrying all the old ladies of the area, dressed in their holiday best. "We honor our old-timers this way so we won't forget our ancient roots," explained a tall and hardy young man, who, as luck would have it, turned out to be the very person we were looking for, our guide, Omar Preciado.

Having enjoyed the parade (which apparently included only those two vehicles) we asked Omar about the state of the road between Santa Rosalía and the foot of El Peñol. "It's only three kilometers," said Omar. "We've paved part of it with cobblestones, but a high vehicle is needed for the last kilometer and a half."

So it was that all thirteen of us somehow managed to squeeze (and I do mean squeeze) into two Jeeps, which then bumped their way along the road until we reached a clearing in a cornfield. A light drizzle fell as we started walking up a narrow path. Along the way, our archaeologists Rodrigo, Cyntia and Bruno Calgaro, pointed out ancient walls and flattened places indicating that all of El Peñol was once beautifully terraced. "These were both for residence and for agriculture," they remarked.

In only half an hour, we reached the top of the hill, a gain in elevation of about 200 meters. The first ancient structure we came to was a ball court perhaps 80 meters long. Unfortunately, in modern times somebody decided to build a stone wall right down the middle of it. The very fact that the ball court is there, of course, indicates that this was a rather important site.

A few minutes later, we saw two large circular pyramids with the same design as the famous Guachimontones of Teuchitlán: a high central mound surrounded by a flat, circular walkway around which a number of platforms are evenly spaced. Two thousand years ago, a tall pole rose from the mound, from which voladores or bird men, attached to ropes, may have "flown," eventually landing on the conveniently circular runway. Perched on the platforms had been buildings for religious or civil purposes like visiting the bones of ancestors or paying taxes. The walkway was also used for a dance called La Cadena, consisting of several huge rings of dancers linked arm in arm, encircling the pyramid.

The beauty of these monuments atop El Peñol is that they are still intact after all these years. You don't need an archaeologist's eye to recognize the mounds, walkways or even the platforms, so the feeling that you have somehow gone back in time is much stronger here than at sites which have been restored. I suspect camping up here would be quite an experience.

Our gang of explorers pose for a group picture on the circular walkway around a pyramid visible in the background. Hey, how many Jorges do we have here, anyway?

"There are no dates from this Peñol," wrote Weigand, "except through comparative studies in architecture and ceramics. Therefore, it is undoubtedly late Formative in date (the same as the Guachis), and it served as a terraced fortified site protecting one of the several accesses into the core of the Teuchitlan tradition." Chris Beekman adds, "If you continue up the hill beyond the site, you will be rewarded with a little group of constructions on the very top and a view down into the area around Llano Grande."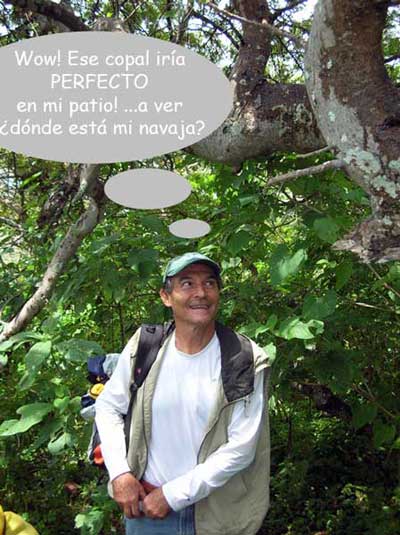 Not surprisingly, there are a lot of copal trees on El Peñol, which are a source of resin for incense. There is also a staggering number of JimsonWeed plants, (Datura stramonium or toloache in Spanish), still used today to make love potions and worse. I wonder if these are descendants of trees and plants used by the ancient builders of the pyramids in their ceremonies.

We returned by heading south down a different path, which took us through beautiful terraces and past a small rock mound which may house a burial. After an extremely leisurely round-trip trek of two hours and 45 minutes, we were back at the Jeeps and ready for our picnic.

Guadalajara Muralist
Jorge Monroy
eyes a copal tree.
"Wouldn't this look
great in my patio?"
he muses while
reaching for his
pocket knife.


How to get there

You can contact guide Omar Preciado at cell phone 386-104-5632 or email preciaddo83@hotmail.com (yes, double d). To get to Santa Rosalía, first drive to Tala. From there drive 1.4 kilometers toward Ameca and take the road to Teuchitlán and Etzatlán. Upon arrival at the entrance to Etzatlán, turn right onto the road to Magdalena and drive 4.7 kilometers north to San Pedro. Proceed west from San Pedro 2.5 kilometers to Santa Rosalía. Don't forget your hiking or tennis shoes. Driving time to Santa Rosalía is about 80 minutes whether from Guadalajara or from Lake Chapala via the Circuito Sur.