By John Pint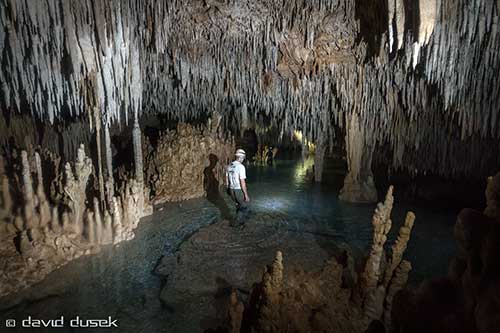 I have been exploring caves for nearly 50 years and the easiest question I've ever had to answer about the subject is: "What is the world's longest cave?"

Mammoth Cave in Kentucky—presently 651.8 kilometers (405 miles) in length—has always been so far ahead of any other long cave on the planet that it seemed a sure thing that a challenger would never arise.

Chris Lloyd in Box Chich Tan Cheé (Laughing Grackle Cave), located in Quintana Roo. Photo by David Dusek.
So you can imagine my surprise and disbelief when my friend, Canadian geologist Chris Lloyd, casually remarked that a cave he's been helping to survey near Playa del Carmen, on Mexico's Yucatán Peninsula, will "without a doubt, eventually be recognized as the world's longest."

Lloyd has been working for years in an area called Pool Tunich, which means Belly Button in Mayan. The project leader is U.S. Cave cartographer Peter Sprouse and he and all the group members are volunteers. Pool Tunich is located smack in the center of Río Secreto, the most popular tourist cave in Quintana Roo. "Río Secreto," says the geologist, "is a very beautiful cave with about 16 entrances and the tour operators take people in one entrance and out another, meaning that one tour group hardly ever bumps into another, allowing visitors to feel they are alone in the cave."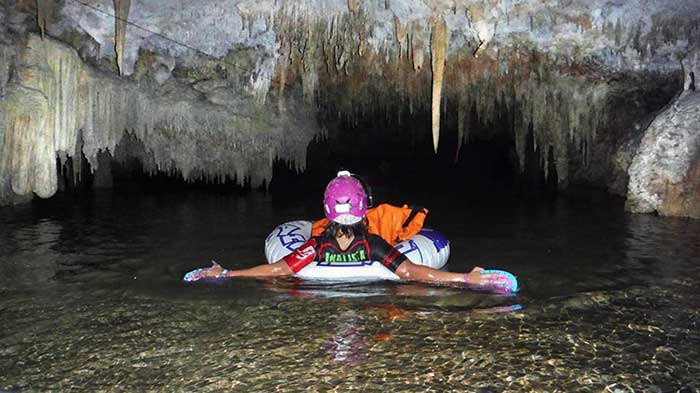 Elsi Lara floats blissfully near the Tres Escalones entrance of Sistema Pool Tunich, which means The Belly Button in Mayan. Photo by Chris Lloyd.
"During this year's surveying expedition, we had six cave divers helping us to connect several dry caves," says Lloyd. "It was a regular United Nations of cave divers. We had people from Austria, Finland, Italy, France and maybe one or two from the United States. Thanks to them, we added four kilometers of passages to the total distance we've surveyed so far."

Four kilometers didn't sound like much to me until Lloyd clued me in on the bigger picture. Peter Sprouse, he told me, has often stated that "There's only one cave in Quintana Roo—it's just a question of connecting the pieces." Most of the area's caves, I learned, are under water and numerous cave divers have been measuring the lengths of these water-filled passages for years. When Peter Sprouse's "dry cavers" come along and connect one underwater cave to another, the results can be staggering. For example, in 2012, Sistema Dos Ojos was connected to Sistema Sac Actún. "We surveyed 200 meters of passage that happened to be in a key spot," commented Lloyd, "and the result was a cave 335 kilometers long, now officially recognized as the second-longest cave in the world."

If you look at Bob Gulden's list of the World's Longest Caves, you'll notice that—in addition to the Sac Actún System—there are seven more Quintana Roo caves further down the list. If you were to add the lengths of these to Sac Actún, you'd have a single cave 768 kilometers long, surpassing the length of Mammoth Cave. If that's not enough to convince you, note that the Quintana Roo Speleological Survey (QRSS) has an archive of survey data for over 353 underwater caves in this area. That makes a total of 1376.5 kilometers of passages, all of which may simply be pieces of "one big cave" if Peter Sprouse is right. It's just a case of time, say those in the know.

If you don't feel like waiting for that to happen, you can still have the pleasure of visiting a Quintana Roo Cave. Just head for Cancún and sign up for one of the many tours through Río Secreto.

What's it like inside a Quintana Roo "dry" cave?

"First of all," says Chris Lloyd, "you have to understand that in this area 'dry cave' means 'no tanks are required to visit it.' So tourists are given a wet suit to wear and a life jacket if they can't swim."

The entrance to Pool Tunich is 50 meters wide and eight meters high. "It's dramatic," says Lloyd. "You go down stone stairs that were placed there by the Mayans 2000 years ago. Soon you are in a knee-deep pool of warm water connected to the main aquifer. It's all water, wall to wall. The floor you are walking on is actually a platform created by calcite deposits. This can have holes in it, so if you're not paying attention, you can suddenly find yourself swimming. The water is crystal clear and you've got little catfish swimming around in there because it's connected to the main water table, and if you're lucky, you may spot little blind shrimp or you might find a tarantula that fell into the cave through one of the many skylight entrances.
"Occasionally you'll see small eels among the root balls, which are from roots that have drilled through the limestone roof, which is only one or two meters thick. These dangle in the cave until they finally hit water. Once they reach it, they have all the water and nutrients they need, no matter how dry it gets up on the surface. Occasionally the roots get coated by calcite and are transformed into shimmering columns. Of course these caves have other kinds of decorations: stalactites, stalagmites and flowstone, generally white but sometimes multicolored...and all of it is clean and sparkling; so this is one cave where you come out not muddy but cleaner than when you went in."

Are you interested in visiting Río Secreto? Better hurry, because once Mexico becomes host to the World's Longest Cave, the price of a tour will probably double.