RETURN TO PARADISE
©2005 by John and Susy Pint - Updated September, 2013
Photos by J. Pint unless otherwise noted
Crystal clear water bubbles up through the clean sand to form a small pool surrounded by exotic plants that look like wild pineapples festooned with yellow ping-pong balls. The temperature of the water is 38°C (100° F)—perfect for a hot bath. As the soothing waters relax your weary muscles, you lie back and gaze upward through the steamy vapors rising all around you and watch a meteorite race across the starry sky. Does it sound a little bit like heaven?
Well, we actually stumbled upon such a place long ago and, of course, we called it Paradise. Now, twenty years later, three of us Jalisco cavers were on our way back to see if that Paradise still exists… and—naturally, to visit a nearby cave notable for a huge colony of tiny bats about five cms long with red bodies and coffee-colored heads, which flutter about the visitor like a cloud of butterflies.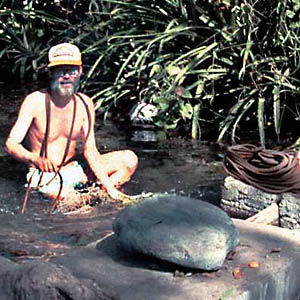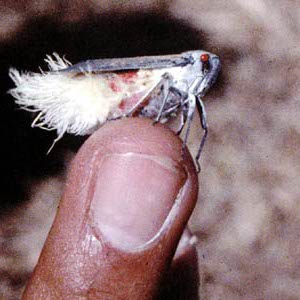 ...On the left we catch John Pint twenty years ago, in the hot spring... washing a muddy cave rope!

...On the right: the answer to the mystery of the "Raining Tree" which we found in this enchanted place. Thanks to hundreds of little insects like this one, the tree does not actually rain... it pees!
The hot spring is described in Outdoors in Western Mexico by John and Susy Pint, under the name La Presa de Las Cuevas, which refers to a lake of agua tibia (tepid water) a stone's throw from the steaming pool. (Well, if it's really Paradise, there has to be a lake, even if it's a dammed lake!) However, I doubt if any reader of our book ever located the place, due to the difficulties of pinpointing exact locations in the days before satellite navigation with GPS (Global Positioning System).
Paradise is located west of majestic Ceboruco Volcano, in the state of Nayarit and --starting from Guadalajara-- it took us (cavers Chris Lloyd, Luis Rojas and me, all members of Grupo Espeleológico Zotz) only two hours to reach its gates, which unfortunately, are rusty rather than pearly. At this spot, known locally as Las Cuevas, there are three shelter caves. The center one measures about 10X15 meters, just deep enough to serve as a home for workers during the corn-planting season. ...


Entrance to the largest shelter cave.
...This cave

comes with a rock stove, adobe shelves and a cross marking the spot where a certain Feliz Perez (sic) died back in 1939. A heap of rocks are piled up along the back wall of the cave, covering up the entrance to a passage which—so say the local people—goes all the way through the hill to the other side. Years ago, with the help of cavers Ray Hardcastle and Jesús Moreno, we tried digging this out, but our only reward was the ingestion of half a ton of dust.


Carefully piled rocks at the back of the cave. Local people say they did this to stop the nightly exit of what they supposed were vampire bats.
The lake lies just north of the caves. We had been told there are fish in it, but we never managed to catch any. Now, however, we may have discovered the reason why. We saw fishermen in several boats stretching a net all across the lake, sealing off one third of it. This no-fail technique looked a bit drastic to us, but a lot more effective than a fishing pole.
Attack from On High
We drove on toward the hot spring. My original fear (that there may now be a Hilton Hotel on the spot) proved unfounded, but—alas—during the last two decades someone else had found out about Paradise! Six pickupfuls of exuberant adults and children were frolicking in the ojo de agua and two medium-size swimming pools into which the stream of hot water had been channeled. Amazingly, none of them were playing loud music… in fact, there was no music at all apart from the children's laughter and we decided to camp under a large tree and wait for all the merrymakers to leave. No sooner had we sat down for a cold beer than a ruckus broke out right above our heads, accompanied by a shower of dry branches. Of course, we all leaped into the bushes, wondering what was about to come crashing down on us.
The culprit, however, was a big brown owl (who certainly must have considered us the culprits), whose repose we had disturbed. Off he flew to a nearby tree, staring at us with saucer eyes.
We spent the rest of that day beating the bush, looking for the entrance to our bat cave, with and without the help of the local people, but all to no avail. In the process we spotted iguanas, squirrels and lots of birds, such as motmots, orioles, hawks and sleek wild turkeys.


...and this impressively spiked pochote (silk cotton) tree.
All the exercise gave us big appetites and we spent the early evening cooking and waiting for the crowd to leave. Meanwhile, we were entertained in the dark by hordes of wobbly daddy-longlegs and huge "bone ants." The last holdouts departed at 8:30 PM Nayarit time (an hour earlier than Guadalajara time) and, finalmente, we were alone in Paradise...
...The three pools, the diamond sky, the spooky cries of exotic birds, frogs and toads, the shooting stars: all ours! We stretched out in the hot spring and as our eyes got used to the dark, we could even see the glow of small arlomos in the nearby mud. There are rumors that these creatures may be dangerous, but, according to naturalist Jesús Moreno, they are just firefly larvae and completely harmless...


Luis and Chris...keeping their distance from the arlomos.
...The wait for all this was well worth it, but if you come on a weekday, you may have the place to yourself all day long.
Bats instead of Muchachas
The next day, we drove north with the plan of scouting for caves around Sanganguey, a huge volcano with an even more imposing "plug" sticking out of it than the one on Tequila Volcano. We drove (not without numerous detours and meanderings) to a small town near the volcano and activated the standard, universally effective, infallible cave-location system: go to the center of the village and say "cave!" to the oldest old-timer you can find. However, we discovered that you have to be careful when you say cueva in the state of Nayarit or you may end up in a place that is dark "and has plenty of muchachas," as our first informant told us.
"No," said Luis, "we mean a subterranean cave, with bats instead of girls."
Well, we got a funny look at that that idea, but our old-timer did know of one such hole-in-the-ground in a nearby community and off we went, finally arriving at the grocery store of a very big and very suspicious man named Don José, who asked us exactly what we wanted in his cave.
"To see what kind of bats you have."
"De veras, and what about the treasure?"
"In forty years, I haven't seen any treasure."
"Well, it doesn't matter because the entrance is only this big, (indicating the size of a soccer ball)."
"Well, we don't have to go inside, but just seeing the entrance will tell us if this is a lava tube."
Here followed a long description of lava tubes, limestone caves, deep pits, ropes and ladders, interspersed with anecdotes and jokes which put the landowner at ease and produced a smile on his face.
"…and, of course, we always give the land owner a detailed map of the cave."
"Only a map, eh?... bueno, maybe you'd like to take a look at the entrance, it's only five minutes from here."
Big Don José, his big son and a big friend all somehow squeezed inside or in the bed of Chris's truck and off we went, bouncing over what could euphemistically be called a dirt "road" between two large fields of Blue Agaves, for about 20 minutes. Then we walked to the cave entrance, a collapse of big basalt blocks. There was a space about 60 cms height and 1.5 meters wide with a dark cave beyond, and air smelling of guano was wafting out of it.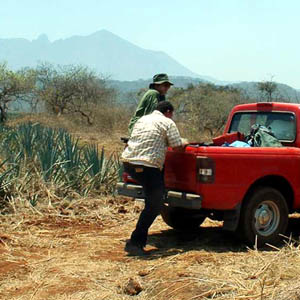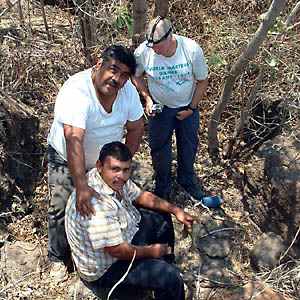 Left: We parked the overloaded truck beneath the looming silhouette of Sanganguey Volcano...

Right: Don José and son at the entrance to La Cueva del Zurdo
..."You see," said Don José, nobody could fit through that!".

.."Hm, lemme see," I said, disappearing into the cave. Chris then joined me and when Luis arrived, Don José told him, "Those two friends of yours are crazy… they went into that hole."


An intent Don José and son peer into the entrance that "nobody could fit through."
..."Actually, all my friends say I'm the crazy one," replied Luis, likewise vanishing into the cave...


As you can see, we were so unprepared to find a real cave, that among the three of us, we had only two lights, one camera and no helmets.
... "This is an erosional cave," said Chris, "not a lava tube...ah! and here's a huge tindarapo (cave-dwelling cousin of the whip-tail scorpion). In a few minutes he and Luis found several passages, one of which was blowing.
Left: The tindarapo or canclo (Acanthophrynus coronatus) is called a "star spider" in Nayarit.
Right: Dust swirls near the blowing passage at the back of the cave.
...

Having only a camera but no light, I had to content myself taking pictures and relaying information to Don José and his son, who were right outside the entrance hole, not missing a thing.


A typical passage in this cave, formed in volcanic rock.
We left knowing that—although it was not the lava tube we dreamed of—La Cueva del Zurdo (Leftie's Cave), named after Don José's father, was worth a survey and a thorough check...
...

As we returned to the truck, we asked Don José if there were any other caves around. "Over there, among those hills," there's a big one with an entrance 20 meters wide."

...


...Don José shows us "the big one"...
...

Don José also pointed out that the big cave was famous for its beguiling treasure as well as ghosts that bellow "TODO O NADA ! " (all or nothing) when you try to carry the treasure away... legends we have heard about practically every cave in the country. If those ghosts also bellow "This cave is ten kms long," and it turns out to be true, we'll be quite happy to let their precious treasure rest in peace...


Post-exploration discussion at Don José's store: Just how big did you say that tindarapo was, Chris?
...And here is where our adventure came to a happy end.


"Horses are strictly forbidden to enter this bar, by order of municipal authorities."
PS: How to Get to Paradise from Guadalajara
Take highway 15 toll road toward Tepic. After about 90 minutes, get off at the Ahuacatlán exit (just after Ixtlán and Jala). Go north on old highway 15. About 16 kms past Ahuacatlán, you'll see a sign for Tetitlán. Go past Tetitlán and take a right onto a dirt road just before the school at Valle Verde. In the dry season, it's an all-car road. Drive west and you'll soon see a RR track on your left. The road eventually curves southward. After 4.7 kms from Valle Verde, turn right onto a track heading west. This crucial turn is at N21°06'28.5"-W104°39'15.8". You need a vehicle with good clearance (like a pickup) for this next bit. Follow the main track, bearing right at large forks. After about 2.5 kms from the crucial turn, you'll come to the shelter cave followed by the lake.The warm river is at 3.1 kms. The exact location of Paradise is N21°07'39.6"-W104°40'06.1".
John Pint