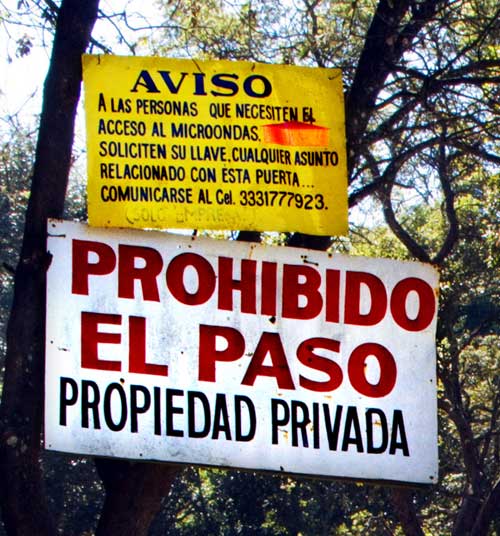 By John Pint

The first to sound the alarm was photographer David Brownell. "With your 2008 article in hand, we drove from the lakeside to Tequila and up the horrible rock road to the volcano, only to find ourselves—at 8,800 feet elevation—face to face with a locked gate and big KEEP OUT signs. We decided to ignore the signs and continue on foot. Did we risk going to jail?"

By pure chance I bumped into Primavera Forest consultant Barbara Dye that very same day and mentioned Brownell's surprising email.

"Ah, yes, that locked gate, those threatening signs. I saw them myself just a few days ago when a group of us tried to visit the crater."

I asked her if they—like the Brownells—had risked criminal prosecution to enjoy the splendors of the crater.

"Well, all the way up the volcano, right to the new gate, we were playing leapfrog with a truck full of soldiers. They, of course, had a key and went through, but we didn't think it would be wise to argue with men in uniform armed to the teeth—not to mention the machine gun mounted on their vehicle."

A machine gun? This sounded sinister indeed. I decided to call the telephone number prominently displayed on one of the menacing signs.

The phone was answered by one Ruben Macias. I asked him how come the road up the volcano had been gated. To my surprise, Macias stated that the upper part of the volcano was, indeed, private property, owned in fact by his daughter, Marfia and went on to explain that he had put up the gate because mala gente (bad people) had been "stealing things, cutting down trees and killing animals."

"So," I replied, are you saying that this famous landmark is now off limits to tourists?"
"Not at all," answered Macias. "They can just park and walk up the rest of the way. The sign is only for vehicles."

Well, in my book, only a movie subtitle writer could possibly translate "Prohibido el Paso" into "Welcome, hikers" so I decided to find out what the Tequila authorities had to say about the whole thing.

I called up the municipio (town hall) and said, "Buenos días, I've been told there's now a locked gate on the road up Tequila Volcano, along with a big sign saying Prohibido el Paso."

"That is absolutely false," replied the person on the phone.

"Actually, two different groups of people told me they saw this gate and sign."

"No, no, that is simply not true."

"Well, they sent me pictures. Right now I am looking at a photograph of that sign."

"Ahem, please hold. I am going to transfer you to the department of tourism."

"The next voice I heard was that of Lic. Alicia Rodríguez. She didn't deny a thing. "Ah, yes, that gate," she sighed. "It was put up by Señor Macias, who is, you know, a Diputado."

"So that is private property?"

"No, Tequila Volcano belongs to everybody and the road is a camino federal."

Lic. Rodriguez informed me that it is completely legal to walk up to the crater and that the Brownells are not criminals (You can stop holding your breath, David). She also stated that she would appreciate receiving emails (to meztli.7@hotmail.Qcom --remove the Q please) on this subject. I consulted with Mexican hikers I know and they felt the locked gate is, in itself, a good thing because "troublemakers rarely walk more than 10 meters from their cars." However, we agreed that the signs need changing, the cobblestone road should be repaired and a parking area must be constructed in front of the gate (where there is presently barely enough room for a car to turn around).

To bring about such changes, Lic. Rodriguez needs lots of messages (in any language), so please send her an email, if you want to help.

A few days ago, I asked hiker friends if they'd like to check out the new Tequila Volcano situation for themselves. Over twenty people showed up for the outing. As we began to climb the volcano, we found David Brownell's description of the road quite accurate: "The further up we went," he said, "the worse it got. We had to stop many places and move rocks to get through the holes in the road in my 2007 Toyota Corolla with four passengers. If we had had an SUV we would have fared better."

When we arrived at the locked gate, veteran explorer Mario Guerrero showed us a shortcut which leads straight upwards to the main fork further along the cobblestone road. To use the shortcut, walk uphill from the gate, following a stone wall southeast. After 400 meters, you'll intersect the road the fork. Here you have to decide if you want to go to the lower microwave towers on the north rim or the higher ones on the south wall. "There are so many microwave dishes on top," says Brownell, "that you don't even need a cell phone to hear all the conversations. They are just broadcast into your brain."

We took the right-hand fork, but after only 100 meters Mario insisted we had to taste "the most delicious water in all Jalisco" which flows from a little spring just below the road. Now this spring is at 2790 elevation which led to a lively discussion on just how the water rises to such a height.

Three hundred and fifty meters above the fork you'll find a delightful trail that takes you inside the crater, past glowing bunch grass, wild flowers and gnarled dwarf oaks covered with thick cushions of moss and lichen. The path goes directly to the base of the huge plug or tetilla rising straight up out of the crater to a height of nearly 3000 meters. Just hiking through the wooded crater is a wonderful experience which could be topped (literally) by a climb to the very peak of the tetilla, where you can gaze upon countless acres of tequila agaves blending together into what look like huge blue-green lakes. Even if you are not a rock climber, a visit to the crater is truly a unique experience and Tequila Volcano is a treasure well worth preserving. So I hope you'll encourage the Tequila tourist department to start managing it intelligently.

How to get there

From Guadalajara, follow highway 15 west (toward Nogales and Tepic). There is now so much congestion in downtown Tequila that I suggest you take the fast and easy toll road (cuota) which gets you to near the volcano without going through el centro. Just get off at the Tequila exit. As you approach the town, watch out for the railroad track. Immediately after you cross it, take the first left and head west towards Hidalgo Street which is 963 meters away. On reaching Hidalgo, turn left (south). Hidalgo turns into the infamous cobblestone road at N20 52.334 W103 50.557. The trailhead for the crater hike is at N20 47.370 W103 50.892. Driving time from the Guadalajara Periférico to the locked gate (via the toll road) might range from 45 to 90 minutes, depending on how many baches (potholes) you have to negotiate.