Jesús Moreno
Orchids of Mexico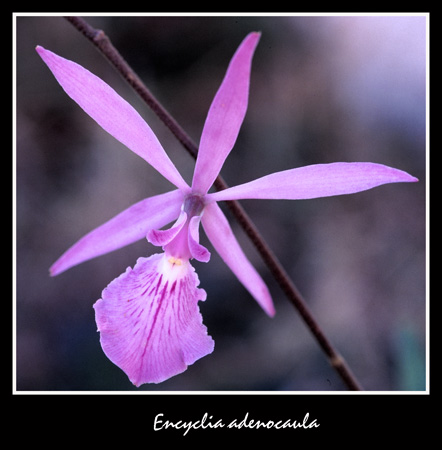 Encyclia adenocaula
Common name: Rough Stemmed Encyclia
Endemic in Western Mexico
---
Nombre común: Trompitos
Orquídea endémica del occidente de México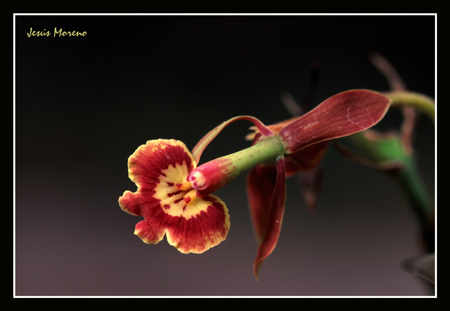 Epidendrum arbuscula
A semi-climbing plant found in the forests of southern Mexico
---
Una planta semitrepadora de los bosques del sur de México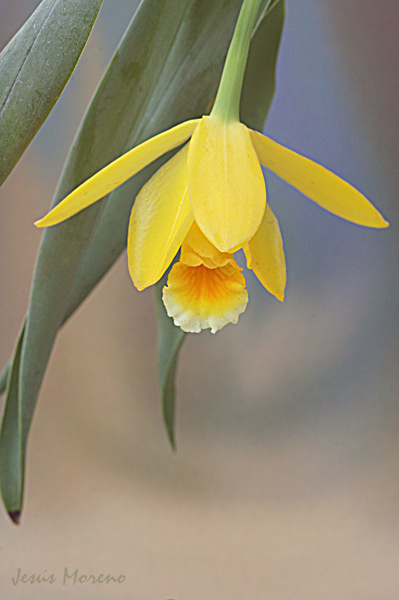 Encyclia citrina

Common name: Daffodil or Tulip Orchid - The Citrus Euchile
One of the most beautiful and attractive of the Mexican orchids. It has a light lemon scent, from which it gets its name.
---
Nombre común: Limoncito

Una de las más bellas y llamativas de las orquídeas mexicanas, tiene un suave olor a limón y de ahí le viene el nombre.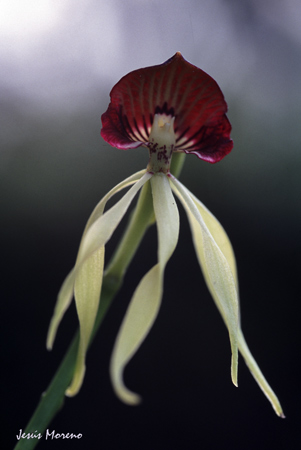 Encyclia cochleata
Common name: Clamshell or Cockle Shell Anacheilium - Octopus Orchid
Abundant and common in the hot areas of eastern Mexico.
---
Nombre común: Pulpito
Especie muy abundante y común del oriente de México en zonas cálidas.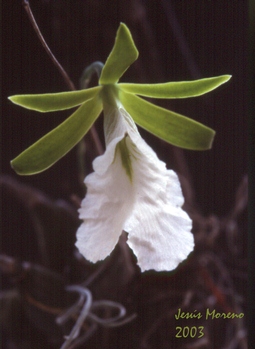 Encyclia marie
Common name: Marie's Epidendrum
Has one of the largest flowers among Mexican orchids. It is found in the Huasteca mountains.
---
Una de las orquídeas mexicanas de flores más grandes; habita en las montañas de la Huasteca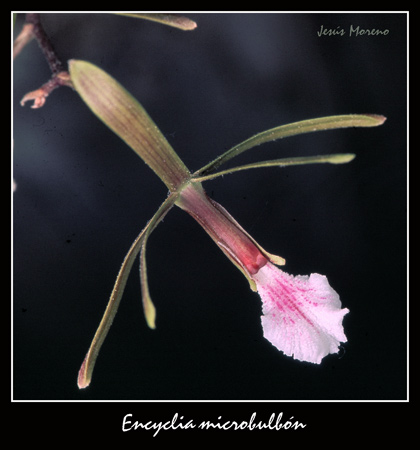 Encyclia microbulbon

Common name: Small-bulbed Encyclia
One of the most common orchids of western Mexico. Found in relatively dry areas.
---
Una de las más comunes en el occidente. Vive en ambientes más bien secos.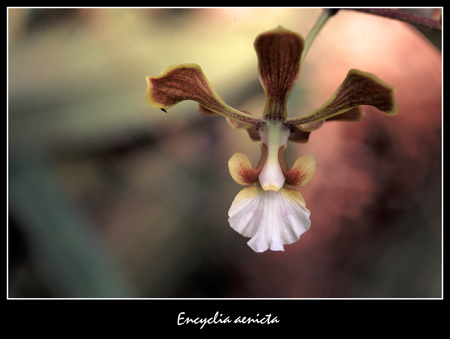 Encyclia aenicta

Common name: Bronze Encyclia
This species is able to support the driest conditions for epiphytic orchids. It lives on the western side of Mexico.
---
Esta es una de las especies que soporta las condiciones más secas para una orquídea epífita. Vive en el oeste del país.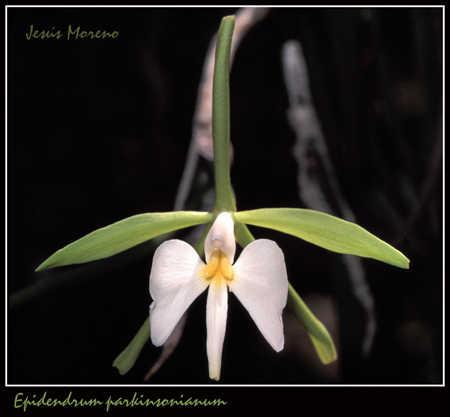 Epidendrum parkinsonianum
A large, hanging plant up to two meters long. It is found in the most humid forests.
---
Nombre común: Cerbatana

Planta muy grande y colgante de hasta dos metros de largo. Vive en los bosques más húmedos.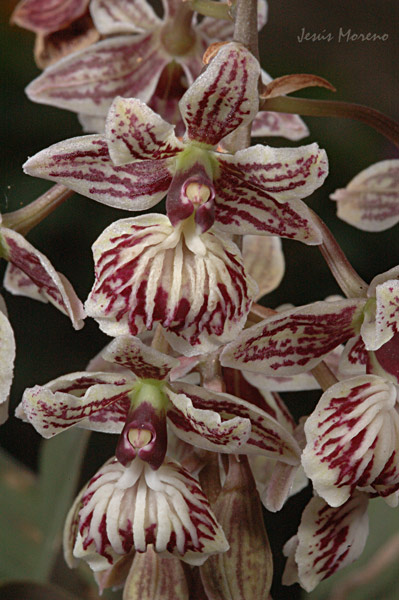 Epidendrum marmoratum
Common name: The Marbled Epidendrum
One of the rarest orchids in Mexico. We found a great many of them in the Sierra del Cuale
---
Una de las orquídeas mas raras de México. Nosotros hemos encontrado una población grande en la Sierra del Cuale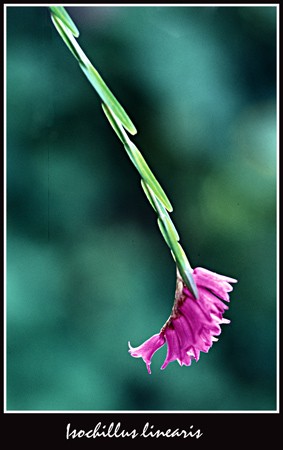 Isochillus linearis

Common name: The Slim Isochilus
Very common in the woods covering Mexico's mountains
---
Es una especie muy abundante en los bosques de las montañas mexicanas.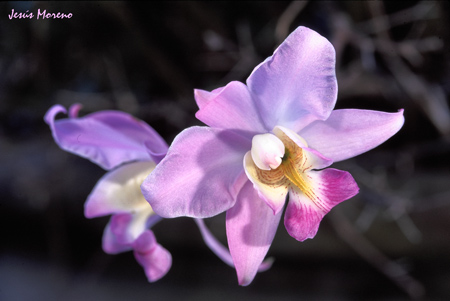 Laelia bancalarii

Common name: Bancalari's Laelia
An orchid endemic to a small region of Jalisco, near Puerto Vallarta

---
Una orquídea endémica de una pequeña región de Jalisco, cerca de Puerto Vallarta.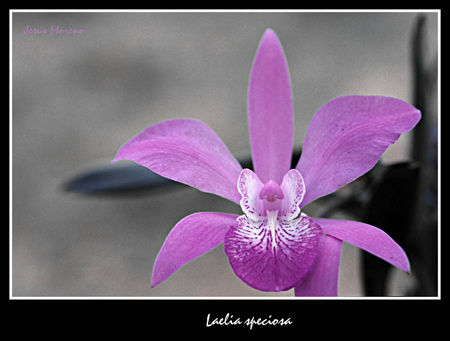 Laelia speciosa

Common name: Mayflower orchid
This plant has very large flowers and is abundant in the western part of Mexico
---
Common name: Flor de mayo
Esta es una planta de flores muy grandes y es muy abundante en el oeste del país.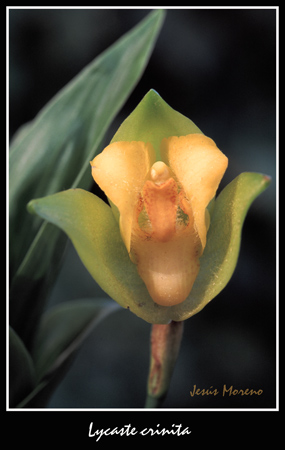 Lycaste crinita

Endemic to western Mexico. Has a light scent of cinnamon.
---
Endémica del occidente de México con un ligero olor a canela.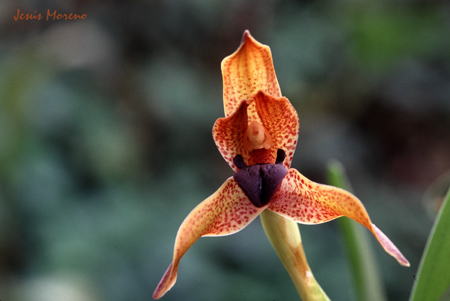 Maxillaria cucullata

Common name: The Widow orchid
Relatively common plant in the south and east of Mexico.
---
Planta relativamente común en el sur y oriente de México.
Many years ago, Jesús Moreno took upon his shoulders the task of drawing and photographing every type of orchid that grows in Jalisco. He is now very close to completing his mission, with only a few areas of southern Jalisco left to explore.
Jesús Moreno Navarro was born in Mexico City and fell in love with nature during the many trips his family took deep into the countryside around the big city. At sixteen, Moreno went to Queretaro to study Agronomy. He interrupted his program for a year of work in El Grullo, Jalisco, after which he finished his studies at the Guadalajara Autonomous University (UAG) and began his career as a teacher.
For many years, however, Jesús Moreno N. was best known in Guadalajara for his ecological cartoons, which appeared regularly in the newspaper El Occidental. His drawings and cartoons also graced the pages of SUBTERRANEO, a bilingual (English and Spanish) bulletin on cave exploration in western Mexico and embellished various books, including Outdoors in Western Mexico by John and Susy Pint and many volumes of the English courses published by Editorial Trillas.
Jesús Moreno has traveled from the Redwood forests of California to jungles of Costa Rica and the Amazon to photograph or sketch the flora and fauna which have always fascinated him. In his own words: "Más que nada me gusta andar por la naturaleza. Me interesa el macro, las aves y relaciono mi segunda afición, las orquídeas con la fotografía. Tengo Una mil fotos en papel y diapositivas y un archivo digital que crece y crece."
His Gear: two Nikon bodies, FM 2 y N 80; digital D70; lenses: Nikkor 28-80 G, Sigma 28-300, Sigma APO 50-500,Sigma 105 macro and Nikon DX 18-70T,Teleconvertor 2x and a Cosina 70-210. Flashes: Nikon SB 30 Y SB 28, SB800; cables: SC17, SC18 and SC19, AS10. Tripods: 190D y 190 Nat, heads 141c y 222 and other gadgets, filters, extension , remote control, etc.
More of Jesús Moreno's photos can be seen at Fotonatura: Collection One Collection Two Collection Three
---