NAICA
The Crystal Cave, the mine, the movies and the stars

By John and Susy Pint, updated September, 2013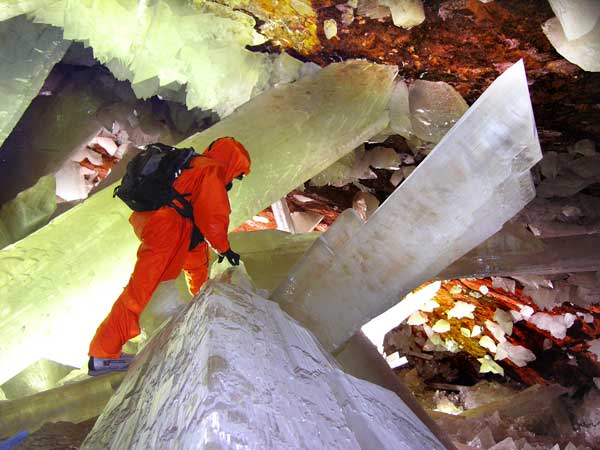 The World Premier of "Naica, Journey to the Crystal Cave" took place in Guadalajara on March 16 in Centro Magno as part of the Festival Internacional de Cine en Guadalajara. The film is a documentary about what is now probably the most famous cave in the world, discovered by Mexican miners in 2000 and filled with giant selenite crystals up to eleven meters long. On top of that, just a few years ago the Discovery Channel presented a first-class documentary on this cave called Naica, Secrets of the Crystal Cave…and we understand there's a National Geographic film on the cave, which we haven't had the fortune to see.

Photo right: An explorer with full cooling suit carefully negotiates the sharp-edged crystals. Photo credit: Speleoresearch Archives and Films La Venta.

The cave is located in northern Mexico, southeast of Chihuahua, at a depth of 300 meters. Its air temperature of 50° C (122° F) and its humidity of 100% add up to a lethal combination for human beings. The Crystal Cave is one of very few places ever found which has been called—in the same breath—"the most beautiful place on earth" and "one step away from Hell."
The Naica Project, which consisted of twelve working trips to explore the cave and study everything in it, was organized in 2006 by a group of Italians known as La Venta Exploring Team, which got its name from a 1990 speleo-archeological project along Rio La Venta in Chiapas, Mexico. Here the team discovered and studied dozens of caves, most of them used by the Zoque Indians as long ago as 300 B.C. Since then, La Venta has carried out projects from Myanmar to Patagonia.

We have the privilege of knowing some of the scientists—now movie stars as well—of the Naica Project and asked them for their comments on both the cave and being filmed while working in the cave.

One of the key protagonists of this scientific drama is Professor Paolo Forti of the University of Bologna. Forti is co-author of the book "Cave Minerals of the World" and past president of the International Union of Speleology. He is also one of the funniest men I've ever met and had us all in stitches when he showed up on an expedition to Saudi Arabia's desert caves wearing a business suit. "Don'ta worry," he told us in his unique Fortian English. "In one minute I now transform myself into a real caver!" And from his pocket he pulled a most amazing paper boilersuit made of indestructible Tyvek.

The next star I want to introduce is Dr. Penelope "Penny" Boston, famed among cave scientists for her studies of Cueva de la Villa Luz in Tabasco, which is the home of "snottites," stalactite-shaped, living colonies of bacteria which produce concentrated sulfuric acid. She is also a leader in designing techniques for the exploration of lava tubes on Mars.
Subterráneo Magazine Interviews Penny Boston and Paolo Forti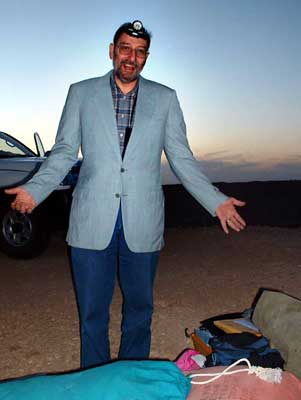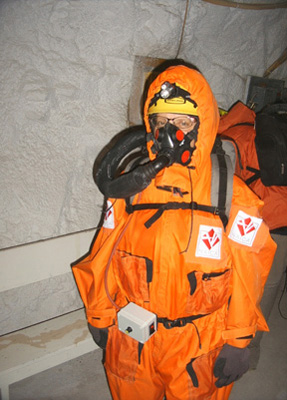 LEFT:
Paolo Forti arrives in the desert
ready for caving (Photo by John Pint)
RIGHT:
Penny Boston (honest!)
in full ice-pack suit with cooled breathing-air backpack. "I can hardly move in this thing!"
Image by Tom Kieft

Subterráneo: What was it like in that cave?

Penelope Boston: Hahaha, well... hot! It was like being in a sauna for a long time while climbing around with difficult footing, and trying to do delicate scientific operations all at the same time. It was extremely challenging.

Subterráneo: Do you have any comments on the filming that went on while you were carrying out your scientific work?


Paolo Forti: Toni (María Antonieta Ferreira) and Gonzalo (Gonzalo Infante) are really very clever persons and they did all their best to help me and all the other persons to behave like "true" actors but, in my humble opinion, they completely failed!

Paolo testing his "Fortitude" inside the cave without the cool suit. Paolo, if that's acting, you really do deserve an Oscar! Photo Credit: Speleoresearch Archive and Films La Venta


Subterráneo: How does it feel to be a movie star in Mexico?


Penny Boston: Hahaha, well Mexico is one of my favorite countries. We are working on several amazing cave systems in different parts of Mexico so it is great to have our work seen by the Mexican people.

Paolo Forti: Well the job of a star is, I think, the most boring in the world because you must spend dozens of hours with nothing to do and then suddenly you must repeat dozens of times the same short scene .... I am completely unable to behave in such a manner and this film will be my first and last!

Subterráneo: Do either of you think you have a chance to win an Oscar?


Paolo Forti: Why you are so ironic?... It is SURE I will get the Oscar... just as long as nobody else competes.

Subterráneo: Penny, did you find life in any of the inclusions you extracted from the giant crystals?


Penny Boston: Yes, we have a number of interesting microbial cultures taken from fluid in the inclusions now growing in an incubator in our lab at the same temperature as in the caves. We also have organisms growing that we took from the amazing red material on the walls. That material appears to be clay and iron oxides "glued" together by a mesh of microbial filaments. We are working to identify all of them, to see if the wall organisms are the same strains as the inclusion organisms or if they are different.


Subterráneo: Any comment you would like to add on this extraordinary experience?


Penny Boston: The beauty of the environment was completely entrancing. It was a precious gift to be able to experience that amazing place, and to help promote the scientific understanding of how this system came to exist, and the wonderful micro-organisms that are living in this extreme environment. The first time I entered Los Cristales, tears came to my eyes and I put my arms around some of the giant crystals and felt that I was actually a part of the cave system. That day, when I got out I wrote a poem about it (which you can find below, on this page—Ed).

Paolo Forti: Never in the wildest dreams of my youth did I imagine seeing crystals such as these, cosí belli, cosí perfetti (so beautiful, so perfect). In theory, perfection doesn't exist in this world, but the closest things to perfection on our planet are the crystals of Naica. So, I must say that the Naica "adventure" was probably the most exciting and scientifically productive activity of all my speleological life. I had the chance to work with several high level scientists from all over the world... and on top of that, I will finally get an Oscar!

Penny's Poem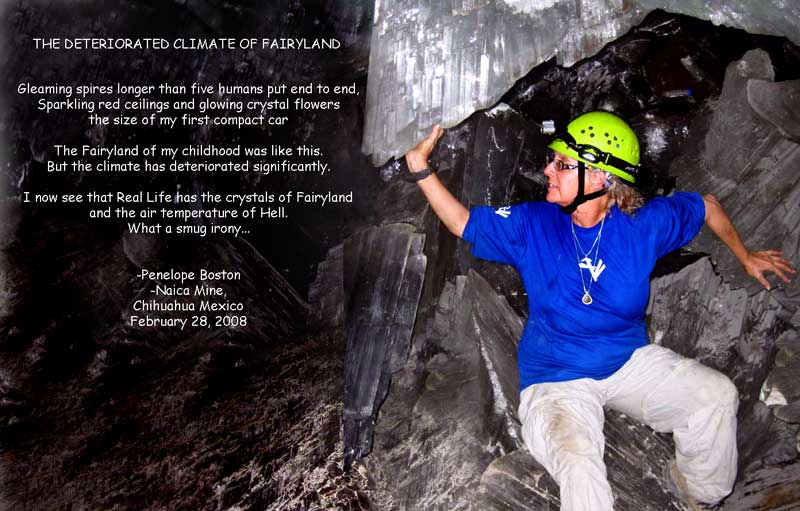 Penny Boston in Ojo La Reina, "a smaller cave so tight that we could not use the ice suits. I have a double ice pack in my helmet, but we just endured the heat and went in for only a few minutes at a time. I cut my right hand on that crystal. Many of the edges are amazingly sharp" The poem was written after her first visit to La Cueva de Los Crystales. Image by Michael N. Spilde.

The Crystal Cave is the most spectacular of four caves discovered by workers in Naica, which is the largest lead, zinc and silver mine in Mexico, operated by Industrias Peñoles. The other three have been somewhat trashed by the miners, a practice we witnessed several years ago, in another cave found by Peñoles miners in Zacatecas (See The Doomed Caves of Zacatecas). But, of course, the amazing Naica caves would never have been seen at all if Peñoles were not pumping 22,000 gallons of water out of the mine every minute. Curiously, this cave will probably be preserved for posterity the day Naica mine becomes unprofitable and the pumps are turned off.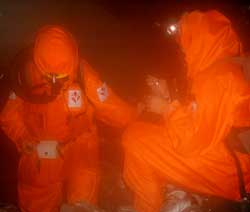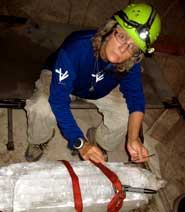 Left: "In Los Cristales, everything instantly fogs up including your glasses and camera lens! Two of us are trying to process some samples but can hardly see." Penny Boston. Image:Tom Kieft
Right: "This is MY crystal. Don't touch my crystal. I bite."
Penny taking a sample. Image by M. Spilde

Ironically, one of the conclusions reached by mineralogist Paolo Forti is that the removal of water from the cave will eventually cause its magnificent crystals to lose their brilliance and transparency and to fall to pieces. "The only way to preserve this cave untouched," he says, "is to fill it again with water, but this means to lose it…forever."

This also means that Gonzalo Infante's "Naica: Journey to the Crystal Cave" as well as the documentaries presented on TV, represent the closest that most of us will ever get to this incredible cave. Better catch the movie while you can.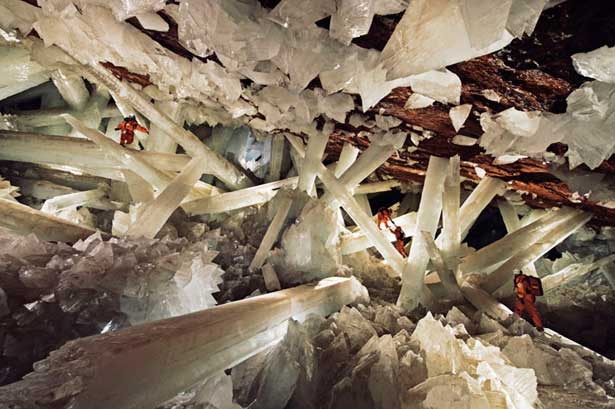 One of the most famous and beautiful photos of the Crystal Cave, courtesy of Carsten Peter
A Few Words on Gonzalo Infante's Film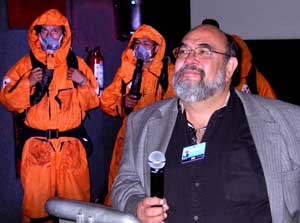 Naica, Journey to the Crystal Cave opened to a full house at Cinepolis Theater in Guadalajara on March 16, 2010 and the director was on hand to discuss his new work with the audience after the screening.

Unlike the previously released documentary aired on the Discovery Channel, which concentrated on the extraordinary scientific discoveries made in the Crystal Cave, Gonzalo Infante's film is about the making of Gonzalo Infante's film, that is, about overcoming colossal challenges and nearly insurmountable obstacles in order to allow the world to see what could surely be called "The Eighth Wonder."

...Every video camera tested by Infante failed and they finally resorted to using a robot-mounted Nikon still camera to literally shoot the movie one frame at a time. "To get ten seconds of movie, the robot had to shoot stills for six hours," Infante told the crowd on opening night. "Many times we just left the thing on and it would run all night long."...


The Robot in action. Photo courtesy of Speleoresearch Archive and Films La Venta.


Gonzalo Infante's film focuses on the struggle of human beings to function in a brutally hostile yet irresistibly attractive environment. We feel the panic of a researcher whose cooling apparatus fails and who nearly dies and we follow the miners into the veritable nightmare they are forced to work in every day.

While the film tells the human side of the story quite well, it leaves out some of the sensational discoveries made in the Crystal Cave, along with the people who made them, like Dr. Penelope Boston. This is sad, because the film will play in theaters all over Mexico, but will give the Mexican people an incomplete idea of what scientists learned (at the risk of their lives) inside that cave. We urge Gonzalo Infante to produce a "director's cut" of his fine film and to include in it "the missing bits" … like the discovery of life inside those 500,000 -year-old crystals.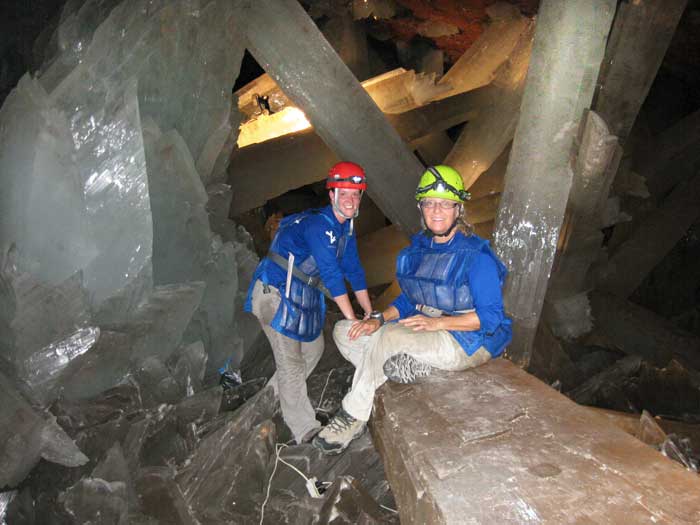 Penny Boston, geomicrobiologist from the US, on right working on sample taking with virologist Danielle Winget from Canada on left. Says Boston: "We are wearing our ice vests and have double ice packs in our helmets. This area of the cave was too difficult and dangerous to wear the breathing gear, so we simply worked for very short periods of a time and endured breathing the heated air." Image by Michael Spilde.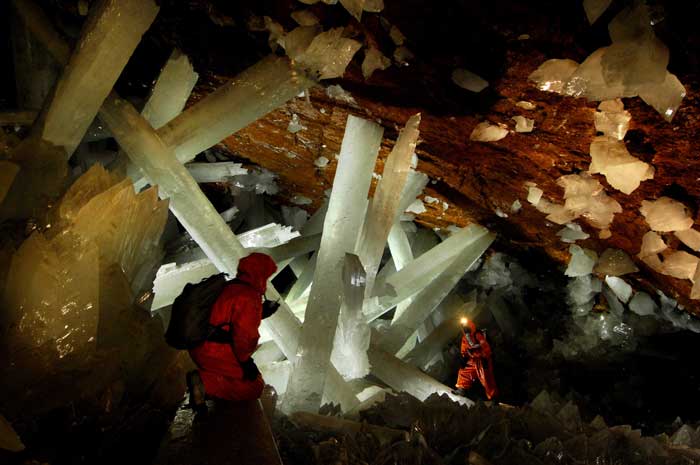 The amazing crystals and above them, the "living ceiling" of mysterious microbes.
Photo credit: Speleoresearch Archive and Films La Venta