Talpa's unique maple forest:
A two-million-year-old success story


By John Pint
FOR INFO ON TWO GREAT NEW SITES NEAR
THIS EXTRAORDINARY WOODS,
SEE RETURN TO THE TALPA MAPLE FOREST, 2016

In the late 1990's, Fernando Aragón Cruz, acting as a guide for bird researchers from the University of Albuquerque, collected a sample of a kind of Sugar Maple from somewhere around Talpa de Allende, which is located 50 kilometers southeast of Puerto Vallarta. As native maples had only been found in one other part of Jalisco (Manantlán Nature Reserve), Mexican botanists were surprised. They were even more surprised when they went out to look at the site. Driving up to a hill at 1764 meters altitude called La Cumbre, in a hidden-away arroyo called El Refugio, they were amazed to see not just one maple tree but a whole woods full of them, incorporated into an ancient fir-maple-conifer cloud forest, incomparably rich in diverse species of trees and plants. But the botanists were puzzled: the flora in the forest included species going back at least to the Pleistocene and possibly all the way back to the Tertiary era. How, they asked, did this system of ecological sophistication and integration survive for millions of years?

Botanist José Antonio Vázquez stated that in his 20 years of experience in the field, he had never seen a forest "of such richness, structural exuberance and composition, which may have come together just after the melting of the glaciers which covered North America."

For years, we had heard rumors of a maple forest near Talpa but had never found anyone who could tell us exactly where it was located. Recently, however, I got a phone call from Miguel Cházaro, Jalisco's leading botanist.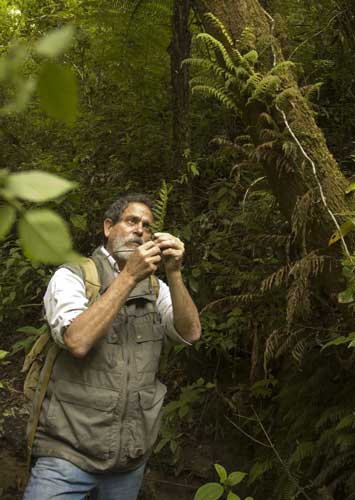 "John, I've located a new hot spring in the Río Verde—want to go?"

"Gracias, Miguel, but your last hot-spring trek took ten times longer than you predicted, got half the group lost and nearly required a helicopter rescue for one pooped-out hiker. Will this new place be as memorable as the other one?"

"Well, it does require a couple hours of walking—maybe you'd like to visit the Talpa maple forest instead."

"Now you're talking, Miguel…sign us up!"

Well, it took several weeks to get things organized and then we set off for Talpa in the company of agronomist Raul López and French Paleontologist Jean-Pierre Brunet, who has recently become a film-maker and wanted to shoot a documentary on the ancient cloud forest.

Thanks to the great improvements on the highway between Guadalajara and Ameca, we reached Talpa in only three hours. The streets were filled with pilgrims who had walked from Autlán, Ayutla and other towns to be on hand for the feast of St. Joseph (March 19). We were surprised to see so many pilgrims already milling about, a full two weeks in advance of their big feast day.

| | |
| --- | --- |
| Crossing Talpa, we got on a newly paved blacktop road heading for Tomatlán. After half an hour, we turned off onto a dirt road that took us on top of a narrow ridge 1632 meters high, where we could look straight down a sheer drop from the windows on either side of the car. A few minutes later, we reached an isolated flat spot a few dozen meters off the road: a perfect place to park and a good spot for camping, with an impressive view of chain after chain of high mountains in the far distance. | |

Seventy meters downhill, we came to the "trailhead" of the "path" through the ancient forest. I put these words in quotes because in reality it was just what you so often find in Mexico: a barb-wire fence to be squeezed under and a vague semblance of a trail that becomes vaguer with every step you take.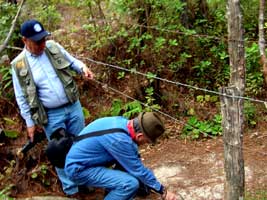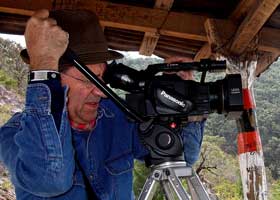 Left: In Mexico, every good trail starts with a barb-wire fence
Right: A little pain for a perfect picture...Cinematographer Jean-Pierre Brunet filming the story

Ah, but the forest we walked into was something wondrous! The maple trees began to appear after only a few minutes, incredibly tall and perfectly straight, not at all like those I knew as a youngster in Wisconsin. These, we were told, are Acer skutchii, a subspecies of Acer saccharum, the Sugar Maple. "Coming upon a grove of maple trees is no big deal," commented Miguel Cházaro, "if you happen to be in Canada or someplace around 40° latitude north, with extremely cold winters. Finding sugar maples in a Jalisco cloud forest is another story."

Cházaro explained to us that cloud forests are home to the richest flora in Mexico even though they occur in only two percent of the country. This we discovered to be true with every step we took deeper into the woods, which is located in a gently sloping ravine through which a small stream flows.

..."That's a walnut tree over there," said our companions and next to it is a Guatemalan fir and over there a Podocarpus reichei, a kind of pine tree…" But suddenly our friends became nearly ecstatic. "Look at this! It's a tree fern. This is Cyathea costaricensis, not exactly what you'd expect to be growing among maple trees."...

A tree fern (Cyathea costaricensis) grows among walnuts, maples, pines and firs in Talpa's ancient cloud forest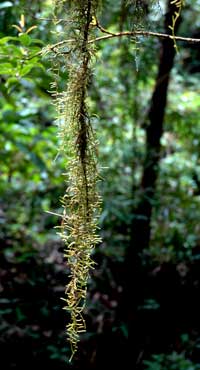 In fact, it turned out there were at least eleven threatened or endangered species all around us in this woods, along with an extraordinary number of lichens and Spanish Moss, which we quickly learned is neither Spanish nor a moss, but an epiphyte, a flowering plant which lives in happy symbiosis with its host.

Our botanist friends tried their best to explain to us that what made this place unique was its perfect balance. Plants and trees usually found in diverse climates had somehow learned to live together not just harmoniously, but so successfully that this forest had operated as a self-contained, self-sustaining unit since the Pleistocene age (or earlier). What looked like just another woods to us was, to our friends, the botanical equivalent of a symphony orchestra.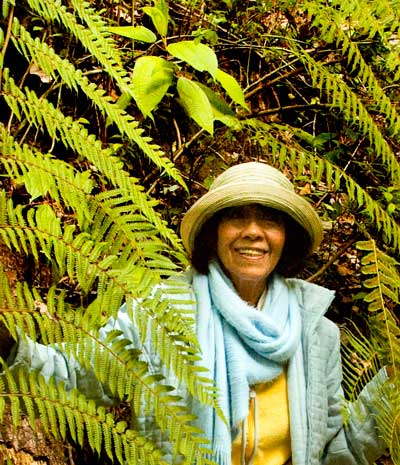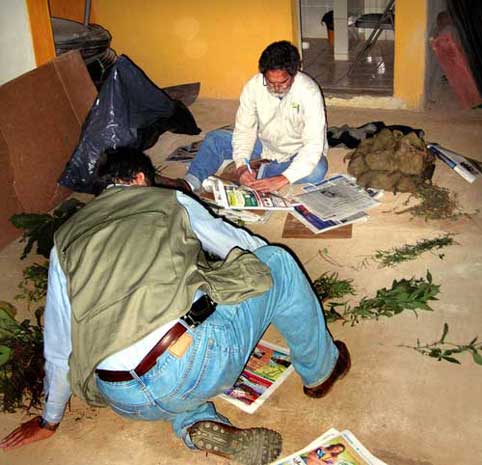 Left: Susy Pint among the tree fern fronds
Right: At the end of the day, hundreds of plants need to be sorted.

Unfortunately, this unique forest is unprotected at the moment and like all the woods in the Talpa area, is threatened by loggers, pot growers, pine-resin extractors, arsonists, wandering cattle, the Comision Federal de Electricidad and the huge number of pilgrims who swarm the area every March (yes, the last two are formally listed as threats). With enemies like that, the harmonious forest's extraordinarily long life may soon come to an end, so if you'd like to see it before it's gone, better head for Talpa as quick as you can!

How to get there

From Guadalajara, take highway 15 towards Nogales and, just before the toll road appears, bear left, following the signs for Ameca. Highway 70 takes you past Ameca and west toward Mascota. Take the turnoff to Talpa, drive southwest through the town and get on the paved road to Tomatlán. Drive south 27 kilometers and turn left at a barely visible sign (at N20.22673 W104.77538) saying "Bosque de Maple." Follow this dirt road upwards for five kilometers until you come to the unmarked "trailhead" at N20.21194 W104.75874. This takes you northeast into the ancient forest, on foot of course. The handy parking/camping spot is located 72 meters southwest of this spot, uphill, at the end of a short cul-de-sac. You can also get to the maple forest from Puerto Vallarta, via Mascota. Either way, it's a one-way drive of about four hours.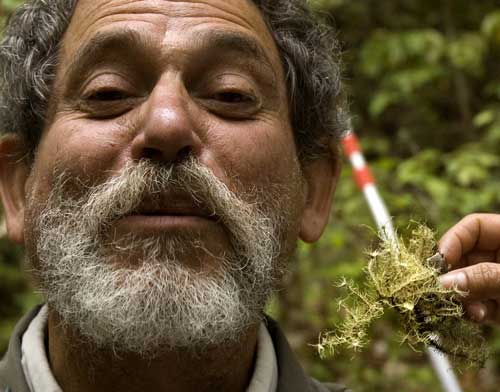 Young botanist Miguel Chazaro compares his whiskers to a sample of Old Man's Beard (Usnea barbata) which is a symbiosis of a fungus and an alga and contains potent antibiotics.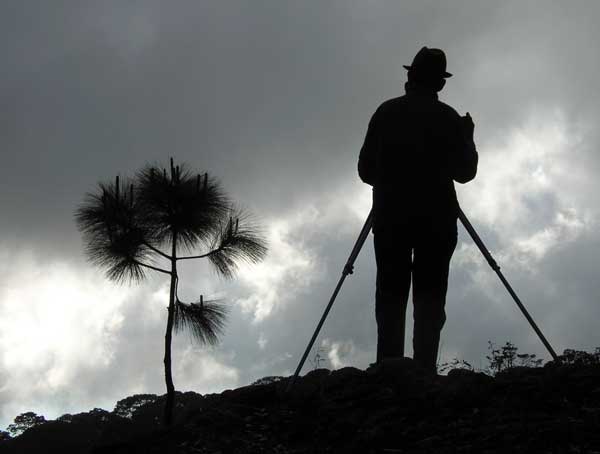 Jean-Pierre Brunet with his ever-present tripod. We're waiting for the movie, Jean!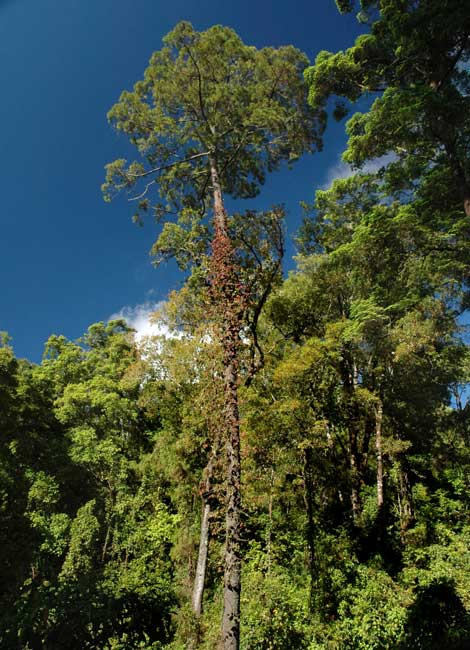 Everything grows better in this forest: Poison Ivy nearly reaching the tree tops.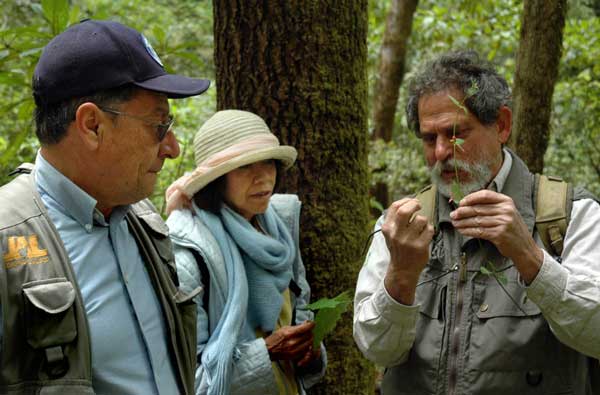 Raul Lopez and Susy Pint offer advice as botanist Miguel Cházaro mulls over a mysterious plant.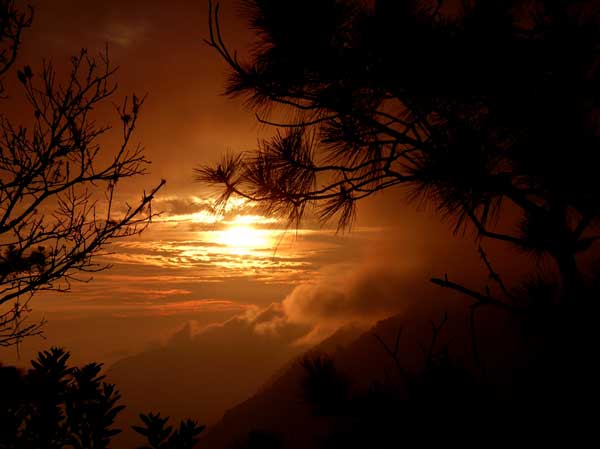 Sunset at La Cuesta, just above the ancient maple forest, the perfect place to watch the fog roll in over the cloud forest.