By John Pint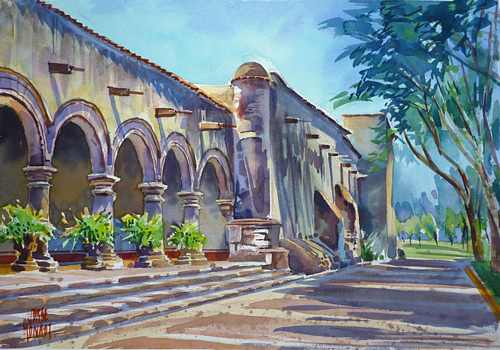 Hacienda Labor de Rivera is located 45 kilometers west of Guadalajara. It was constructed in the 17th century and according to according to Antonio Flores Flores, author of Odisea de un Pueblo, "La Labor de Rivera was one of the best Haciendas in the area, with excellent land, abundant water, plenty of pasture land and hard-working trabajadores. They also produced fine mezcal and piloncillo (brown sugar) and reaped abundant harvests of wheat and garbanzo; they truly seemed blessed by God."

Time, nevertheless, takes its toll, especially on 400-year-old buildings and when I visited the venerable hacienda some twenty years ago, its walls were crumbling and it looked like nature was struggling to repossess it.

Then, along came the Lucke family. How they did it, I simply can't imagine, but within a period of seven years, the present owner, Mr. Edgar Lucke has not only managed to restore the buildings and the grounds to their former glory, but also to transform the hacienda into a prize-winning hotel, restaurant and much-sought-after venue for corporate training sessions and meetings as well as social events like weddings and graduation parties.

On top of that, today's Hacienda La Labor is also a successful farm and even has its own tequila, called Círculo, in honor of the Guachimontones. In addition to all this, La Labor de Rivera is a thriving ranch with a herd of 80 horses.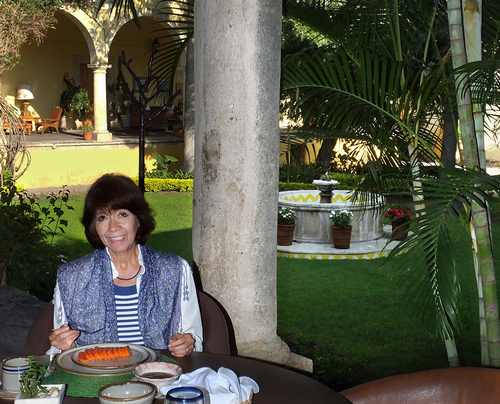 We strolled around the hacienda with Head of Reception Jesús "Chuy" Arana. "This hacienda," he told us, "was originally named 'San Nicolás,' probably by its first owner, Don Nicolás de Siordia. It acquired its present name because of a competition organized among various haciendas in the area. The one that could produce the biggest harvest of all, would be declared the winner. Well, this hacienda turned out to be the champion, but rather than give the credit to some one individual, the ranch hands, who numbered about 1000 in those days, declared that it was 'their work' (nuestra labor) that had won the prize."

The Hacienda has become famous as an equestrian school. People come here not only to ride, but also to learn every aspect of caring for, feeding and training horses. And they do Hippotherapy as well. Just in case you are wondering what they do with the droppings produced by 80 horses, we learned that 50% of them are turned into compost and the rest is used to feed worms, resulting in vermicompost, an excellent nutrient-rich organic fertilizer.

While multinational corporations hold training sessions at this hacienda, it's also a popular place for kids' activities. "Children come here," continued Chuy Arana, "to learn crafts like making piñatas and jewelry. We have large air-conditioned rooms in a separate building which can sleep 30 kids at once."

Well, the list goes on and on. They hold rodeos in their own arena with all the excitement of the Mexican charrería. They also host art exhibitions, catas or wine-tasting sessions and a special event called the Mole and Tequila Festival. You can find out all about upcoming events at their FaceBook page, which, of course, is called Hacienda Labor de Rivera.

After a delicious dinner of baked salmon in the gourmet restaurant, we took a night-time stroll around the Hacienda's lake, watching the fish jump and then retired to our room, one of 21 alcobas: elegantly furnished rooms with walls about a meter thick and amazingly high ceilings (Ours was 5.5 meters) plus huge wooden shutters on the windows. They have even retained the traditional holes on both sides of the doors where a thick pole called a tranca used to be placed to bar the door. Along with these authentic touches of the colonial way of life come all the amenities you'd expect from a hotel-boutique plus the cleverest little coffee-maker I've ever seen.

For more information call (52) 01 33 3616-9198 or check out their website.

How to get there
From Guadalajara, take Mexican highway 15 west (toward Nogales) for 25 kilometers and turn left onto highway 70 heading southwest towards Ameca. Be sure you don't get on the toll road to Tepic and Nogales! After 17 kilometers you'll pass the large sugar refinery at Tala. One and a half kilometers later, turn right onto a road signposted Ahualulco. After 12.7 kilometers you'll come to the Teuchitlán gas station (N20.68099 W103.84801). Drive 3.2 kilometers past the gas station and you'll see the sign for Hacienda Labor de Rivera. Turn left here. After 1.1 kilometers, you'll arrive at the entrance (N20.67550 W103.87879) to the hacienda. You'll find the driving route from Guadalajara to this hacienda on Wikiloc.com under "Guachi 8 Labor." Driving time from Guadalajara is just under an hour.