By John Pint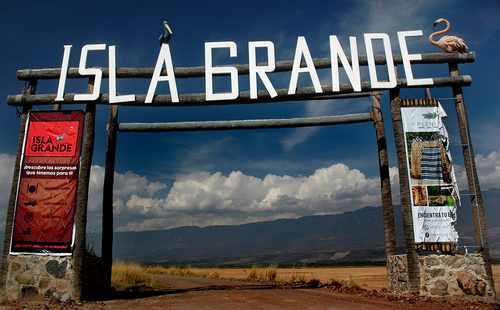 Chatting with some environmentalists, we heard about an animal reserve called Isla Grande, located in the last place you'd expect to find a park: right in the middle of the salt flats of Sayula, 70 kilometers south of Guadalajara, Mexico. "They´ve created a sort of little Africa out there," said our informants, "and you can pet the animals."

Well, we have some friends whose children dearly love animals, so we invited them along and one Sunday morning headed for the town closest to Isla Grande: Atoyac, a town located along toll road 54 between Guadalajara and Colima.

We left Guadalajara at 9:00 AM, aiming to reach the reserve around 10:00 when it opens. This worked out fine and along the way we paid only one toll of 129 pesos. Exactly where to go after leaving the expressway was not very clear on the park's website (islagrande.com.mx) but I figured we would just drive into Atoyac and find our way using "Mexnet," which, of course, you access by simply sticking your head out the window of your car and asking directions.

No need. The Atoyac exit from the cuota road led us directly to a big glorieta (roundabout) next to which there was a huge arch framing the road to Isla Grande. Beyond the sign, there was a dirt road suitable for all vehicles, in what I would call "good" condition, but what others might describe as "tolerable," heading right off into the middle of what looked like a huge, flat desert.

"Africa, here we come—I hope!" shouted our driver Susy, and off we went.

The road is 2.7 kilometers long with no turnoffs. By Jorge, it actually did lead us straight to a genuine island, green and wooded, right in the middle of what had once been a shallow lake. We came to the entrance of Isla Grande, where our license number was jotted down. Inside there was parking space galore and a reception area where we could pet llamas, sheep and a dwarf goat named Panchón who had free run of the place. We were advised to visit the restrooms here because the first stage of our safari would last about an hour.

Next we took seats in a shaded, flatbed camión, open on all sides. The guide for our tour was Gilberto, who, I discovered, was an experienced veterinario médico, not just hired help. I told him I was planning to write an article on the park.

"Oh yes, I heard about you," he said. "You're the man from National Geographic, right?" And before I could reply to that, he had me sitting with him in front on a little platform above the cab, with my feet dangling over the side, so I could "get good pictures of the animals."

With about 20 people on board, our vehicle lumbered through the first of several locked gates into a very African-looking scenario of acacia trees—which, of course, are known as huizaches here in Mexico. Immediately several big llamas trotted up to check us out. Next appeared an Eland who had been given the pet name "El Guapo," long-horned Ankole Watusis, ostriches (we learned to distinguish their sex) and a huge but truly endearing Dromedary camel they called Emilio which immediately fell in love with my big, heavy Nikon camera, on which it bestowed several juicy kisses.

Gilberto had brought along lots of carrots we could feed to the animals, but to get your hands on them, you had to answer one of his many questions, all of them designed to educate us about nature. For example, he said: "There's a tree within sight of us which grows downward instead of upward. Anyone know which one it is?" We soon discovered he was referring to the amate tree (strangler fig) right next to us, which starts out as a seed dropped by a bird onto a tree branch or a tall rock. It then produces a long, thin root, sometimes many meters long, which eventually reaches the ground.

We soon came to a small lake where three hippopotami were blissfully wallowing. After casually mentioning that more Africans are killed by hippos than by any other animal, Gilberto invited me (only) to help him toss carrots into these big animals' gaping mouths. I figured he wanted to be sure a last photo of him would appear in Natgeo, just in case we didn't survive the experience. Well, the hippos turned out to be about as tame as teddy bears and for the first time in my life I got to scratch one on the head. "Don't worry, all the animals we have here were born in Mexico, in captivity, and are very friendly, except for some of the snakes we are going to see now in the Herpetarium," said Gilberto. As we continued our drive, we were visited by buffaloes, Nilgai antelopes, a Sika Deer named Elio and a Red Deer called Rogelia.

We walked into the Herpetarium through a giant snakes head, viewed some deadly serpents (all behind glass) and enjoyed a wonderful show where we met, up close, tarantulas, giant toads, baby crocodiles, an African Spurred Tortoise called La Vaca for some reason, and a boa constrictor which it took six people to hold horizontally. It was hard to believe the staff members on stage were all professional veterinarians because they put on a great show.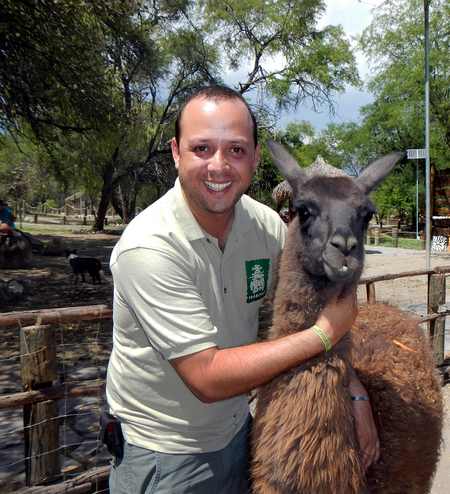 Our safari took about two and a half hours. Upon our return to the reception area, we were met by Omar Bárcena, Director of Wildlife Projects. He, too, is a veterinarian who found his vocation when he fell in love with animals as a child. Later in life he came to the conclusion that what will help animals most is educating human beings to respect them and to learn from them. He told us that Isla Grande has been operating for just over a year, and its main focus is on "environmental education while having fun." It's not part of some chain, but is autonomous and "unique." At present the reserve has 120 animals representing 50 species. "Actually, we have 121 now," he said, "because a baby Watusi was born here recently."
Bárcena says the park will soon have its own restaurant, featuring regional dishes. They'll also be adding to their repertoire a new show featuring predatory birds, which will include eagles, kites, falcons, owls, crows and vultures. "The star," says Bárcena proudly, "will be Mexico's national bird, the Golden Eagle, which weighs six kilos and has a wingspan of two meters...but you won't see these birds in cages; you'll see them in the air, hunting, and flying free."

If you'd like to get up close to animals you won't find in the pet shop, head for Isla Grande, which is open on weekends and holidays from 10 AM to 6 PM. The last safari camión leaves at 4:30 PM. Adults pay 150 pesos, kids 90 pesos and Golden-Agers get a 50% discount.

How to get there
Take toll road 54 south from Guadalajara, heading for Colima. Watch for the Atoyac exit and then follow the signs for Atoyac. You'll go straight to a big roundabout (N20.01729 W103.53594) where you'll see a large arch indicating the road to Isla Grande. Go straight southwest 2.7 kilometers to the reserve entrance (N20.00180 W103.55529). Driving time from Guadalajara is about one hour and 15 minutes.