By John Pint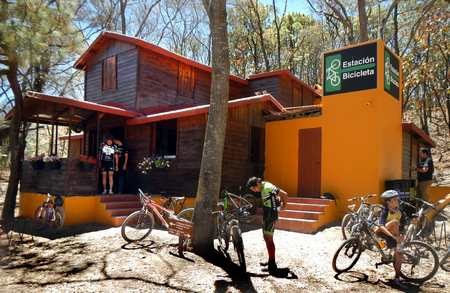 "You have to visit La Estación Bicicleta," I was told again and again by friends who know Jalisco's Primavera Forest well. "It's such a cool place and they have a restaurant, too."
This rest stop for bicycle riders is located west of Guadalajara Mexico, on the extension of Calle Mariano Otero, 11.5 kilometers west of the Periférico (ring road), inside the Primavera Forest. The only problem about getting there—unless you're riding a bicycle—is that you can't drive your car to it. Motor vehicles are permitted only so far inside the forest, after which you must cycle or walk 2.7 kilometers to reach this rustic cycling center.

For the sake of this article, the creator of the Bike Station, Sergio Méndez, offered to transport me there in his car, but I figured my readers would feel I had short-changed them if I didn't work up a sweat of my own, roast my "coco" (head) in the hot sun and breathe in a little road dust, in order to encourage readers of this paper to do the same.

Well, I dusted off my bicycle, pumped up the tires and headed for the forest. A few kilometers past the park entrance, I came to a place long known as 8 ˝ (referring to the driving distance from the Periférico). Here you'll find a huge parking area where you can leave your car under the vigilance of a Park Ranger. Beyond this point, only local landowners are allowed to drive.

So I jumped onto my old Schwinn mountain bike and headed up the wide, powdery white dirt road. Since it was a bit of an uphill slope, my leg muscles immediately protested: "Hey, wait a minute! We haven't done this for two years! Give us a break!"

A few minutes later, however, I was coasting downhill, enjoying this Easy-Rider sensation and breathing in the cool, clear air of the oak and pine forest. In less than half an hour, I arrived at Estación Bicicleta, where I could see lots of cyclists milling about or enjoying a cool drink at small tables which were actually bicycle wheels with glass tops.

Sergio Méndez gave me a warm welcome and an ice-cold glass of Jamaica (hibiscus flower juice). "I got the idea for this place from the mountain chalets in Europe where skiers can enjoy refreshments and a rest before going back onto the snow. I realized the Primavera Forest had no facilities like those chalets, no snack bar, no toilets even, and of course, no emergency medical help for visitors."

Rather than complain about this situation, Méndez decided to take action himself. "A relative of mine had two rustic cabins on this spot, but wasn't using them. He gave me a free hand to fix them up and that's how Estación Bicicleta was born. We opened less than a year ago and now we serve most of the nearly 1500 cyclists who come to the Primavera Forest each weekend."

Méndez took me on a grand tour of the facilities and I was greatly impressed. First of all, their toilets couldn't possibly be cleaner and, on top of that, have a tasteful and clever bicycle motif. Then there's a small workshop—also impeccably clean—where cyclists can borrow all the tools they need free of charge. If they take away any bike parts, they are honor-bound to replace them later—"and they always do," says Méndez. The same system holds for the Station's clinic where Méndez says people always bring back more bandages, etc. than they were given.

Perhaps the biggest attraction of the center is the Snack Bar which offers a variety of breakfasts (eggs, hotcakes, chilaquiles, molletes) as well as healthy and hearty sandwiches named after famous cyclists. Just in case you're wondering, the menu assured me that the Torta Lance Armstrong is "completely dope free."

You can enjoy your food and drink outdoors or inside the Station's art gallery, which displays impressive photographs, paintings and drawings, always with a theme related to cycling or the Primavera Forest.

Although he holds a degree in Law, Sergio Méndez now dedicates much of his time to running his "Cycler's Chalet" in the woods, where, by the way, he doubles as the Emergency Medical Technician on duty. Always coming up with new ideas, his most recent project involves rebuilding some of the most popular bicycle trails in the Primavera, so that riders will do the least possible damage to the extraordinarily fragile environment of this pine-and-oak forest built on a thick layer of volcanic ash (jal).

"We sent out an open invitation to architects and engineers to present projects for accomplishing this and we had an overwhelming response," explains Méndez, who is now working on how to finance the winning project, which involves protecting sensitive parts of the trail by building wooden boardwalks and bridges.

Considering that the Primavera Forest has around 100 kilometers of bike trails, visited by over a thousand cyclists every weekend, Sergio Méndez has his work cut out for him—but his outlook remains positive: "If you want people to change," he says, "you need to provoke that change. The government can't do everything. I want people who come here to be amazed. I want them to say, 'If these people could accomplish this, maybe we can do the same.'"

Estación Bicicleta is open 7:30 AM to 3 PM every Saturday and Sunday. You'll find information about their latest projects plus lots of photos on their FaceBook Page (Estacion Bicicleta).


How to get there

Just follow the Periférico (Ring Road) to Mariano Otero Street and head west. After about 9 kilometers you'll come to a large parking area (N20 37.079 W103 30.621) and a Ranger who will stop you from driving any further. Proceed west on foot or on your bike for another 2.7 kilometers to Estación Bicicleta at N20 36.936 W103 32.086. Driving time from the Periférico to the parking area is about 20 minutes, depending on traffic.