By John Pint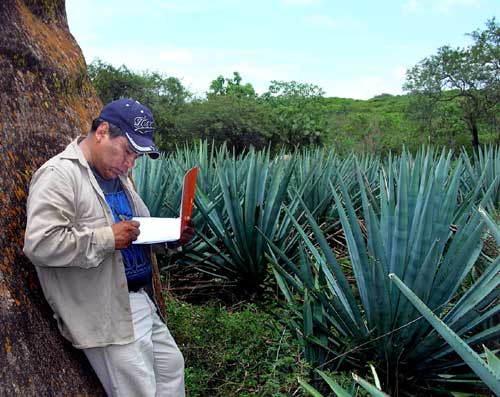 Archaeologist Carlos López Cruz was murdered around 2:00 AM in El Amarillo, a tiny community in the municipality of Amatitán, Jalisco (40 kms west of Guadalajara), on May 4, 2013, during a local religious festival.

López, who died at the age of 47, lived in the Valley of Santa Rosa, where local people fondly referred to him as "El Arqui." He was so well liked in the area that he stated in an interview—shortly before his death—"It's true that Santa Rosa is a corridor for Narcos, but I'm not worried because everybody knows me around here."

López worked with the National Institute for Anthropology and History (INAH) and was at the vanguard of archaeological studies in Western Mexico. He was also frequently called upon to investigate, evaluate and register newly found archaeological sites in Jalisco.

Because I am one of those people who occasionally report such sites to INAH, I had the pleasure of meeting Carlos López years ago and seeing him in action.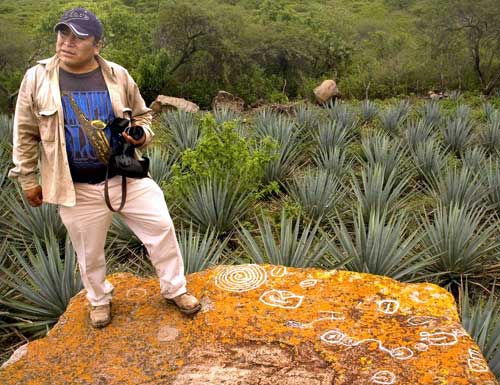 In 2009 I was shown a large rock—covered with mysterious petroglyphs—located in the middle of an agave field near Tuxcueca. The flat-topped rock lay within view of Lake Chapala's south shore and had probably been situated at the water's edge in the past. I called INAH and suggested that this rock, together with several nearby, may have been used for ceremonies in ancient times. The archaeologist they chose to register the site was Carlos López, who accompanied me to Tuxcueca, took meticulous measurements and numerous photos and later met with local officials in an attempt to get them to protect the site.

I was impressed with the Arqui's unassuming "rockside manner." Although thoroughly knowledgeable in his field, he was always willing to listen and to explain things in layman's terms, and had a great sense of humor.

Little did I suspect that López had been carrying out the work of an archeological pioneer. "During the decade of the 90's," says Teuchitlán archaeologist Sean Monti Smith, "Carlos López worked with Dr. María Teresa Cabrero in Bolaños Canyon to establish contacts between North Central Jalisco and South Zacatecas, to understand cultural dynamics previously unknown. More recently, he was working in the Río Santiago Canyon and had found the first important sites of the Atemajac tradition in this area. One of his principal interests was the route that the Conquistadores followed to reach Etzatlán during the first years of Spanish occupation of Jalisco. This is a subject no one else knew anything about. Carlos López was a true researcher whose spirit led him to visit places no one had ever explored before."

Regarding López' recent work, Dr. Cabrero commented, "Carlos had his own project along the Santiago River Canyon. During various field trips he managed to locate over 100 archaeological sites there of great importance and size. He was truly a pioneer in this area and his work was one of the most important in the state of Jalisco. Unfortunately, his investigation was left unfinished. Even though he gave many conferences on his discoveries, he never published anything."

Dr. Cabrero goes on to mention that, although she worked closely with López on many projects, and would like to publish his papers, INAH Jalisco has refused to allow her access to them, saying that the information belongs exclusively to them. Whether INAH ever publishes the material remains to be seen. The organization has been strongly criticized by many archaeologists, including the late Phil Weigand.

There is a celebrated fish called Tapatia occidentalis which lived in the Santiago River about nine million years ago. This fish was about an inch long, a member of the family Goodeinae. They are live-bearing fish and many of their modern descendants live in the Teuchitlán River, where they are being slowly but surely exterminated. Once again it was Carlos López who registered with INAH an amazing find of countless fossilized Tapatias. These fossils establish the minimum age of the Goodeinae as late Miocene and are the oldest fossils of any kind found in Jalisco.

I asked archaeologist Joseph Mountjoy for his recollections of Carlos López. He says, "I met Carlos López many years ago at a Mesa Redonda of the Mexican Anthropology Society in Querétaro. We both wound up sleeping on the floor of a room at a hotel because there were no local accommodations anywhere else when we arrived. I found Carlos had a great sense of humor and as there was no TV, we passed the time joking, and laughing a lot till it was obvious that the other companions on the floor were ready to sleep. As I became familiar with his excavation work on shaft tomb and related habitational/ceremonial remains I was impressed with the quality of Carlos' fieldwork—first class."

Mountjoy and López ended up carrying on a long-term dialog on petroglyphs, their recording and their interpretation. Concludes Mountjoy, "As one gets older the number of archaeological sites recorded or sherds studied becomes less and less important while the friendships formed in the process is increasingly more treasured. I was fortunate to have enjoyed Carlos' humor, friendship and wisdom, although as it turned out, for far too short a time."

Carlos López' good disposition and willingness to help his fellow man seem to have played a key role in his tragic death. According to a source who lives in Santa Rosa Valley (and who wishes to remain anonymous because the area is controlled by Drug Traffickers), an argument broke out in a Cantina (bar) in El Amarillo and it was López who stepped between the antagonists, attempting to calm them down. Suddenly a gun appeared, shots were fired and two men fell dead. One was Victorino Ríos Campos, who worked in a nearby tequila distillery and the other was Carlos López. A woman was also wounded in the shootout. Local people feel that if justice is ever done regarding this crime, it will be "Narco Justice," since there seems to be no other law in the Santa Rosa Valley.

The people of Mexico have lost more than an archaeologist; they have lost a pioneer.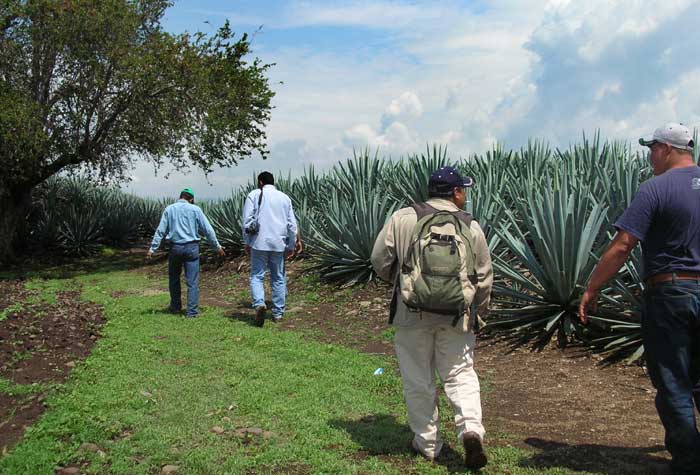 Good-bye, Carlos!